ABRA and KNDU, HydroInsider.com announce partnership for improved Unlimited Hydroplane fan experience
Posted:
Updated: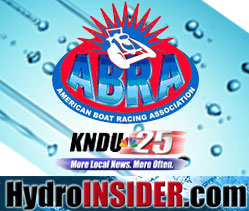 The American Boat Racing Association (ABRA) is proud to announce a unique partnership with KNDU-TV and HydroInsider.com that will provide more video and better coverage for Unlimited Hydroplane racing fans in 2008.
KNDU-TV and HydroInsider.com will be staffing professional video journalists at Evansville, Madison, Detroit, Tri-Cities, Seattle and San Diego to provide extensive video coverage for ABRAHydroplanes.com, the official website of Unlimited Hydroplane racing.
The ultimate in extreme powerboat racing, Unlimited hydroplanes fly airborne at speeds of more than 200 miles per hour. On the water, these jet-powered 3,000 horsepower engines attract the attention of more than a million fans across the nation.
This season, fans will be able to go to ABRAHydroplanes.com and view video from every heat race at every race site, along with interviews and features with the sport's top drivers, owners and crews.
"We want to give our fans the best possible experience on the water, at the race site, and on-line," said ABRA Chairman Sam Cole. "This partnership will help market the sport and the teams and create new fans."
"Our goal is to give fans more in-depth coverage of the sport and more video," said Paul Dughi, VP/General Manager of KNDU-TV and editor of HydroInsider.com. "We're excited to partner with ABRA to bring that coverage to a substantially larger - national and international - audience through ABRAHydroplanes.com."
KNDU-TV produces 8 hours of live TV coverage from the Tri-Cities race event. HydroInsider.com is a fan site dedicated to covering the Unlimited Hydroplane circuit and was recently cited for excellence by the Society of Professional Journalists.