Spring Barrel Drawing Younger Crowds
Posted:
Updated: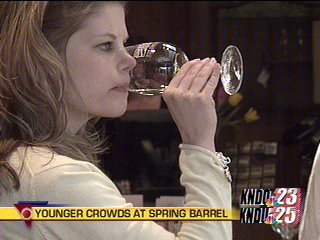 WAPATO, Wash. -- This years Spring Barrel is winding down tonight and local wineries say they've seen a much younger crowd come through this year.
Brenda Ferguson manages Sageland Vineyards in Wapato and last night she noticed right away a changing demographic in the wine tasters.
"I guess I'm feeling older because everyone is looking younger, but they're having a great time and looking for a new experience," said Ferguson.
Some other winery owners think the new wine programs at colleges in the area are helping to draw younger crowds, she agrees but says that's not the only draw.
Ferguson stated, "I think that can contribute, but there's just so much to do about wine, learn about wine. Its everywhere we go and its so much fun."
One of the younger tasters today says this is something he was looking forward top doing once he turned twenty-one.
"I know a lot of my friends like to do this and it's a lot more fun, cause we can finally do it now that we're 21," said wine taster Pat Fabish.
His girlfriend, Jessie Little, says she was looking to learn about wine and this was the best way.
"You learn what to look for and about all the different types of wine and things. So when you're in a restaurant and you look at the menu you're going I have no idea what to order, you can kind of remember some of the things you've learned and tasted," said Little.
Sagelands says the new young crowds were a big help for sales, but they also said the nice weather this weekend played a huge part.