U-13 Spirit of Detroit has sponsorship for the entire 2008 Unlimited Hydroplane racing circuit
Posted:
Updated: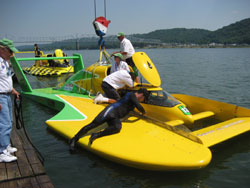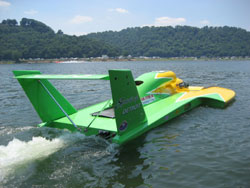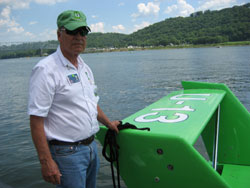 U-13 owner Dave Bartush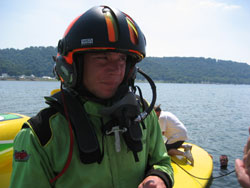 U-13 driver J. Michael Kelly
The U-13 Spirit of Detroit racing team has secured sponsorship for all 6 races on the 2008 American Boat Racing Association tour.
Owner Dave Bartush and Graham Trucking have agreed to a 5 race deal as title sponsor, according to Jeff Kelly of the Spirit of Detroit team. The Detroit Yacht Club will sponsor the U-13 at the Gold Cup in Detroit this year.
Graham Trucking is no stranger to unlimited hydroplane racing. Owner Rob Graham was introduced to the sport in the late 1980s, sponsoring both 2.5 litre hydros driven by father and son, Jerry and Greg Hopp. Graham sponsored the Hopp entry into the newly formed Unlimited Lights category in 1995. That sponsorship lasted until 2000, but Graham and Hopp joined forces again last year as well as this coming race season.
In the interim, Rob Graham has sponsored numerous Unlimited Light teams in the ULHRA circuit. They will also sponsor the Unlimited Lights series at the Tri-City Water Follies in 2008.
In 1993, hydroplane racing's ultimate racing series called Rob Graham. Dr. Ken Muscatel needed an associate sponsor for his race team and the Graham Trucking logo was first applied to an unlimited hydroplane. The next year saw Graham and Bill Wurster join forces on the U-8 as an associate sponsor, as well as 1995.
Title sponsorship of the Wurster team happened in 1996, as the Miss Graham Trucking was born on the unlimited circuit. Since then Graham Trucking has helped sponsor several owners: Fred Leland, Ed Cooper and Jim Harvey. The Harvey/Graham partnership lasted 3 years starting in 2003, when Harvey built the brand new U-2.
Current U-13 pilot J.Michael Kelly is no stranger to Graham Trucking. Kelly was the driver for the Jim Harvey owned hydro in 2004, sponsored for much of the circuit by Graham Trucking. That same year Kelly was named the sport's "Rookie of the Year" driving the U-2. The partnership last one more year, then Graham Trucking sponsored the Ken Muscatel leased U-2 for the west coast races in 2006.
The U-2 hull is now owned by Dave Bartush and is being prepared now as the team backup and display hull for Graham Trucking.
The 2008 ABRA season starts in Evansville June 27-29 at the 30th edition of Thunder on the Ohio.
Kirk Duncan