License Tab Fees Aren't So Cheap Anymore
Posted:
Updated: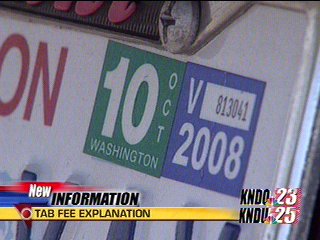 KENNEWICK, Wash.-- Everyone was happy when license tab fees dropped down to $30, but now the cost is far more than that every year. Fees have been added, including a weight based fee.

Tim Eyman started a petition to lower tab fees. That petition became State Initiative 695, and then the people of Washington voted yes to $30 tab fees.

So starting January 1, 2000, the registration fee went down to $30. Although it seemed like $30 was all you would be paying, it was only the registration fee that was lowered, and there were still other fees. Brenda Chilton, the Chief Deputy Auditor, says, "Car tabs have never actually been exactly $30. The registration portion of the car tabs is $30, but there are some additional fees that still apply." Since 2000, those additional fees have been on the rise. Chilton says, "There have been additional fees that have been implemented by the legislature. Most recently, a couple of years ago, they enacted a weight fee on all vehicles."
Other fees include a $3 dollar filing fee, and even a $0.75 technology fee.
The weight based fee came into effect in January 2006. Now it's $10 for the average sedan, $20 for the average SUV, and $30 for larger SUVs and trucks.

Another way the Department of Licensing and the State Legislature get money is from license plates. The state requires that you get brand new plates every 7 years. Chilton says, "So if it is your turn to renew your tags in addition to the $43.75 [the total fee for the average sedan's tab renewal], there will be an additional $24.

All of the money from the added weight fee is going to fund 274 critical transportation projects over the next 14 years. Those projects are all across the state and include improving highway safety, making driving easier for freight and semi trucks, and reducing traffic.