Points will determine which hydroplanes get to race in limited space in Seattle pits
Posted:
Updated: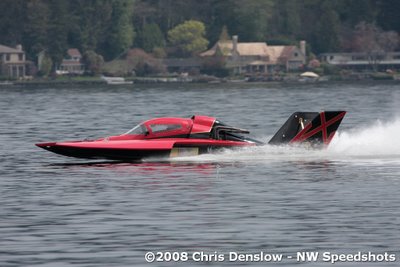 PHOTO - Chris Denslow
Racing for Seattle at Richland?!!!!
Absolutely.
Bottom Line: If you want to race in the Unlimited Lights' event at Seafair in Seattle, you must first race at the Unlimited Lights' events BEFORE Seafair in Seattle.
The ULHRA 2008 season continues on May 17th & 18th at Howard Amon Park in Richland WA. Desert Thunder II is expected to attract up to 30 race teams in three Unlimited Light Hydroplane Racing Association series and that by itself is quite an endorsement of this second year event. However, there's a prize down the road that teams in the Unlimited Lights Racing Series specifically are seeking and that's a ticket to the Graham Trucking Cup at Seafair this August.
Because of the growth in teams competing in the Unlimited Lights series there are far more teams with the capability and desire to race at Seattle than there is pit space available. So, after weeks of discussion, consideration and debate, the ULHRA Board of Directors earlier this year instituted a qualifying system for the 14 available UL positions at Seafair.
Bonus Points were awarded to those teams that competed at the Trafficade Work Services presents the Unlimited Lights at Firebird near Phoenix AZ in late April, and at the Lake Trash.com ULHRA exhibition event at Pickwick Landing in Tennessee first weekend in May. A total of 10 UL teams have received bonus points and they have the advantage for 10 of the 14 positions available at the Graham Trucking Cup Seattle event.
The first 10 "slots" go to teams with the most participation points plus bonus points. Bonus points were offered only for the first two events of the year due to the length of travel required to participate. UL Participation Points are offered at each ULHRA race and with each consecutive race entered the number of Participation Points offered increases. For example, the 9 UL teams that entered the Phoenix event each received 30 participation points. If they race at Richland, they earn an additional 60 participation points. If they miss a race then their next ULHRA
sanctioned event is worth 30 points.
What about competition points.......those 400 first place, 300 second place, 225 third place and so on points? Competition Points determine the series champion and the 4 remaining slots available at Seafair. Now, as John Houseman used to say in those old Smith Barney commercials, teams that want to race at Seattle will have do things "the old fashioned way....they eaarnnn it!" Thus, competition for those four "competition points positions" at Seattle between the teams that did not go to Phoenix and Pickwick Landing should be very keen at the next four races.
For that and many other reasons there will be an excellent field competing at Richland WA, May 17 & 18. That's good for the fans of hydroplane racing, and so is this: Admission is free!
In the UL season standings after one race it looks just like last season ended; Kayleigh Perkins leading Greg Hopp. However, Paul Becker has shown he'll be quite competitive and there are a host of other challengers looking to make an impact such as the new "rides" for Vince "X-Man" Xaudaro and Wil Muncey and the improved performance for Bob Smets who brings a bigger more powerful engine with him to Richland. Brian Perkins should be formidable. J. Craig Fletcher will have his season debut in his new entry; the former UL-33 that was driven to victory at Port Angeles last September by Mark Echols. Plus there will be a host of other challengers; up to 15 in the Unlimited Lights' series, alone.
The two day event, May 17 & 18 will be broadcast live on KONA 610AM Information Radio serving Richland, Pasco, Kennewick and the surrounding area. Desert Thunder will also be video streamed around the world at www.ulhra.org
John Lynch
P.R. Director and "Voice" of ULHRA Racing.