West Richland Fire Destroys Old Cars and Sheds
Posted:
Updated: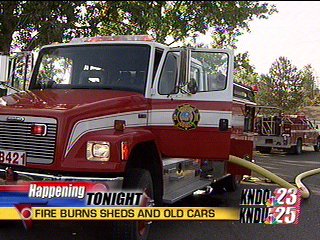 WEST RICHLAND, Wash. -- A fire in West Richland threatens homes, burns up sheds, and old cars. Police say the fire was most likely started by a couple of 13-year-old girls playing with matches.
Firefighters say what made the blaze so dangerous was just how close it burned to houses.
They say with all the brush and wood in the area got, it very hot, very quick. It was the dense, black smoke that people saw first when they walked out of their homes near 38th Avenue and as they got closer, the flames.

When it was over, skeletons of sheds, appliances, and even a chair were left. But, firefighters were able to save the homes and all the people in the neighborhood.

But, Syd Hall says much of what his friend Darryl Kimsey loved, is gone. Kimsey lives in the neighborhood, a wood fence surrounding his front yard and ivy surrounding his home. But, it was the backyard where he loved to spend his time.
Hall says Kimsey is a mechanic and loves to fix his cars when he has time.
Hall says he had a number of classic cars in the backyard. Now, Syd says, in such time of loss, he hopes he can help his friend put things back together.
West Richland Police say there could be a number of different charges filed in this case. Depending on the investigation, the teenage girls could be charged for negligent burning or even arson.
Power was out in the neighborhood near 38th Avenue but it was restored as soon as the fire was out.