CWU Class Helps Restore Historic Depot
Posted:
Updated: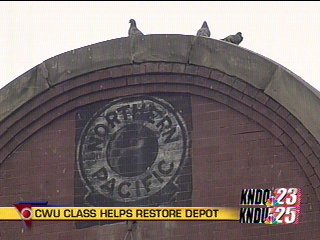 ELLENSBURG, Wash. -- Central Washington University class turned a class project into a huge fundraising effort to help restore the historic Ellensburg Depot.
Not only did this class go above and beyond the requirements for this project, they have set the standard now for all future projects in this communications course.
"In the past it's been a lot of mock events that the students have done and this year we really wanted to catapult the class and go into a full-time real world experience," said Sean Turpin.
It was Sean Turpin who first brought the idea for this project to his professor at CWU.
Turpin said, "My pitch was to help out the local community by helping out the railroad depot."
From there the project took on a life of it's own. They knew they wouldn't be able to put on this huge event without a little spending money at first so they hit the streets to find some.
"We actually did a car wash at the Super one to raise a couple extra dollars. Just any little teeny tiny thing that we could do to help raise a dollar here and there," said Turpin.
After it was all said and done they were able to raise $15,000 after expenses for the event they will be able to give $5,500 to the historical society.
"It warmed everybody's hearts to see the students take on a real life project in our community," said Fennelle Miller of the Historic Ellensburg Association.
Now every class after this will be doing a similar project that will help the community in some way.
Miller said, "So often people complain that CWU students exist in sort of a separate plain to the rest of the community. You see them walking down the streets, but our lives never touch and this was an example of how our lives do touch with the students and it was really wonderful and we are very grateful that they decided to take on our project."
The class is going to be presenting the check to the Ellensburg Historical Society tonight at the Clymer museum, which happens to be the building the next class is raising money for with their project.