The Yakima Farmers Market Returns
Posted:
Updated: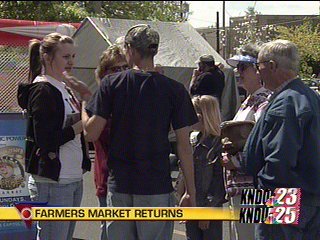 YAKIMA, Wash. -- People in Yakima today got a reminder that summer is just around the corner. The weekly farmers market returned to downtown and people were anxiously waiting for its return.
The Farmers Market is bringing back what everyone loves. It had the food, the shops, the produce, the music, and the fun.
There were fewer booths today than normal, but those who were there say of all the markets they attend Yakima's has the best crowds.
"To me it's one of the biggest ones I go to, because the customers are so diversified. They come from all over the world," said Don Lennon
DON owns B&D Wood Crafts with his wife and says the convention center and the general make-up of Yakima's population makes the crowds different every week. He says he wouldn't mind seeing even more people coming out.
"I'd like to see it twice as big. It couldn't be be big enough," said Lennon.
Today's market was filled with everything from crafts, to produce, to outdoor decorations and of course the food. There was even a little music.
For some people at the market this was the perfect way to spend mother's day.
"Usually we go out to dinner or lunch for Mother's Day, but this year I said I want to go to the Farmers Market," said Elizabeth Ealy.
Ealy looks forward to the market every year and says unless it's over 90 degrees she won't miss one of them.
"I've been coming since it opened," said Ealy.
The same is true for don and his booth.
"I've been here for like 5 - 6 years now. I can't even tell you how many years. It's just a part of my life," said Ealy.
The Farmers Market runs every Sunday through October from 9 a.m. to 2 p.m.
Event planners say the market is only going to get bigger as the summer goes on. Today was just a little preview of what's to come.