Young Mother Is Setting an Example for Other Young Single Mothers
Posted:
Updated: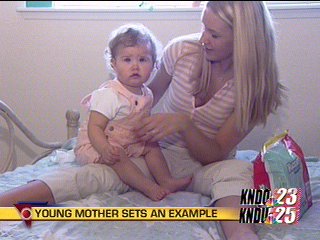 RICHLAND, Wash.-- Kathryn Ament first shared her story with us back in April 2003. As a young sophomore in high school, she faced teen pregnancy and the responsibility of becoming a parent.
We see her now five years later, soon to become a college graduate.
"Chloe was just learning how to walk, so that was fun," said Ament about the first time we met her.
At age 16 she had just become a mother to daughter Chloe. But now at age 22, this young mother has reached the goals, she once thought, were too out of reach.
"I thought I can do this, I can figure out the resources that I need," said Ament.
And she did. With her family's support she was able to finish high school, and take classes at CBC. Looking out not just for herself but for her daughter, she went off to college at Central Washington University. A tough move for Ament's mother.
"I had gotten so used to having my daughter and granddaughter around, but it was time for them to go," said Janet Parmentier, Ament's mother.
Ament says she joined the running start program and took night classes to be with Chloe during the day. Always trying to stay on track.
"She's inspiring to me, I'm so proud of everything she's accomplished," said Parmentier.
And Chloe is also proud.
"She knows how to be a good mommy, she makes me clean my room, but I like to clean my room," said Chloe.
Knowing now what she didn't know five years ago, Ament has just one last thought for mothers like her.
"Having a child it really shouldn't be the reason why you don't accomplish your goals, it should really be the reason why you do accomplish your goals and why you succeed," said Ament.