Bill Clinton campaigns for Hillary in Pendleton, OR
Posted:
Updated: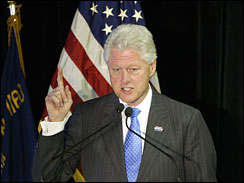 File Photo
In visits to three rural communities far east of Democrat-rich Portland, former President Bill Clinton touted his wife's economic, education, energy and health care policies and urged residents to support her in Oregon's upcoming primary, saying she remains Democrats' best hope for winning the fall election.
Clinton, however, conceded Sunday that Democrats must unify in order to beat Republican John McCain and take the White House, regardless of whether Barack Obama or Hillary Rodham Clinton wins the nomination.
"Whatever happens, we're all going to be united in the fall, because we need to be to take this country back," Clinton told an audience in Pendleton, an Eastern Oregon town known for its wool blankets and annual rodeo.
The Clinton campaign, trailing in the delegate race and recently needing an infusion of cash to stay afloat, shows no signs of quitting. Florida Congressman Kendrick Meek, a Miami Democrat, joined the former president on stage, and both made the case that Florida's votes should be counted.
Florida and Michigan rushed to hold early primaries against Democratic party rules, and their delegates are on the sidelines.
"Being from Florida, we're still waiting for our vote to count, even though we voted overwhelmingly for Hillary," Meek said in introducing Clinton. "The stakes are so high in this campaign, and it's important that we come together and make sure our voices are heard."
Before returning to the Portland area for Sunday night appearances, Clinton visited Baker City and Redmond - rural communities that, like Pendleton, vote Republican.
In Baker City, locals couldn't remember a presidential campaign stop since Robert Kennedy passed through in the late 1960s. News of the Clinton appearance resulted in a wave of head scratching as residents wondered how they made the list.
"I don't know why he's here," said Jay Raffety, a 46-year-old bar owner and registered Republican.
The last-minute campaign stop sent local officials scrambling as they were notified on Friday, said Fred Warner Jr., chair of the Baker County Commission.
"We might have been a little bit surprised," Warner said. "I'm really glad somebody recognized that this far east there are voters."
In a city that doesn't publish a weekend edition of the local newspaper, residents heard about the appearance mostly through word of mouth. Baker City fire officials estimated a crowd of between 500 and 600 heard the former president stump for his wife on the lawn in front of the Baker County Courthouse.
"It's not often stuff like this happens ... not in Baker City," said 13-year-old Tyler Schlipf, who said he would vote for Rodham Clinton if he could.
In Redmond, a crowd of roughly 300 showed up at a middle school auditorium to see the former president. "I think it's admirable he came out here to talk to us," said Gloria Kopanski, who moved to Central Oregon from Las Vegas after retirement.
Kopanski's husband missed the event to play golf. Also, not in attendance was Brian Sheaye, a farmworker from Terrebonne who said Clinton's visit makes you "wonder who's running and who'll run it."
To have any chance of running it, Rodham Clinton must overcome Obama, who has an all but insurmountable lead in pledged delegates and has erased the New York senator's advantage among superdelegates.
Clinton noted Sunday that Obama spent more money in states his wife still managed to win. He credited Obama with good vision, but said his wife believes vision alone is not enough.
Rodham Clinton has both short- and long-term plans for improving the economy, first by creating new jobs to repair the nation's bridges, roads and rail lines, and by giving taxpayers relief from $4-per-gallon gasoline.
In the long term, she'll support homegrown energy sources and spend "serious money" to get drivers into energy-efficient vehicles, homes and buildings, thereby aiding with global warming and setting an example for the rest of the world, he said.
America also spends 50 percent more than other nations on health care, largely because everyone doesn't have insurance, he said. Rodham Clinton believes every American should have the option of joining the health care plan available to members of Congress, federal employees and their families.
"We can get control of health care costs by doing the morally right thing," Clinton said to cheers from the crowd in Pendleton. "That's the fascinating thing - doing the morally right thing, is the best way to create jobs. Doing the morally right thing is the best way to improve health care."
Richard Smiley, 65, a Pendleton resident and scientist for Oregon State University, is a lifelong Republican, but didn't vote Republican the last two election cycles.
"I am absolutely fed up with Bush administration tactics. We do need change, and I am supportive of whichever wins the nomination," Smiley said of Rodham Clinton and Obama.
His wife, 63-year-old Marilyn, supported President Clinton in his two terms and backs his wife now.
"Maybe I'm a woman of a certain age. There is a woman of a certain age who realizes what she's accomplished, and I'm hopeful for her," she said.
Rodham Clinton spent Mother's Day with her daughter in West Virginia, where she planned to visit the home of the woman credited with founding the holiday 100 years ago.
Her husband was to remain in Oregon overnight and visit Astoria, Tillamook, Newport, Corvallis and Eugene on Monday.
COPYRIGHT ASSOCIATED PRESS