Nationally Known Hospital Opens Children's Clinic in Richland
Posted:
Updated: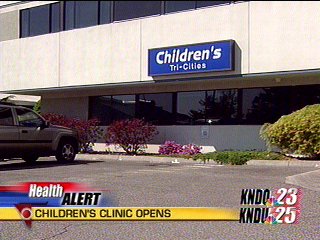 Richland -- A specialty clinic has opened in Richland. It is part of the nationally known Children's Hospital and Regional Medical Center in Seattle.
The clinic is staffed by Children's physicians and nurses, who work in collaboration with community providers to increase the availability of pediatric specialty care services in Benton and Franklin counties.
Patients from birth to young adulthood will be seen at the clinic for consultation and follow-up services including: cardiology, gastroenterology, genetics, nephrology, orthopedics, prenatal cardiology, pulmanary, and rheumatology. The clinic also offers fetal cardiac consultation in partnership with Tri-Cities Maternal Fetal Medicine.

The hospital made the decision to open the clinic in the Tri-Cities because of the large number of families in the region who travel over the mountains to get care for their children. Now, instead of families making the trip, the medical experts travel here.
Cheryl Ricketts, who is Regional Manager for Children's Tri-Cities, said last week that there are many worries for families with sick children, and a great deal of stress and anxiety for the children. Having care closer to home alleviates a lot of that hardship.
"Whenever you can have your family around for children who have a really have a hard time getting out of their environment, to have them around when it's a very emotional time for your child [is important]."
Children's Tri-Cities Clinic brings care closer to where patiencts live and also supports Children's efforts to grow responsibly by decentralizing outpatient services and focus on inpatient care on the man hospital campus.