Riding The Bus To Work
Posted:
Updated: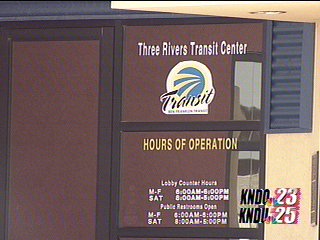 KENNEWICK, Wash.-- On Tuesday morning one of our reporters rode the bus to work, as a way to avoid high gas prices.
Before taking the bus to work on Tuesday morning, she got directions from Ben Franklin Transit.
BFT helped her figure out how to get from her house to work, making just a couple stops. They have six people working the phones to help you map your route, and two of them speak Spanish.
The trip started in West Pasco, at the bus stop on Sandifur Road and Hudson Street. She had to be at the bus stop at 8:15 a.m. to be at work by 9:30 a.m. Along the ride, she talked to some people, many of them students at Pasco High.
"I do it to save gas whenever I can, don't want to be paying 50 dollars every week," said Cody Nunez, a student at Pasco High School.
Her first stop was at the Pasco Transit Center. She switched buses there, and talked to a young man heading to Benton City.
"I work during the week so I take it to work and back," said Rodney Deatoa.
His bus ride is about two hours long, and he brings his bike along in case he misses the bus somewhere.
"I do have to get up a little earlier to make it there, but it's all worth it," said Deatoa.
Our reporter also had to get up early, since it took an hour to get from West Pasco to Kennewick.
Upon arriving at the Huntington Transit Center, in Kennewick, she could take route 47 but the station was just one block away so she walked the rest of the way.
She got to work 15 minutes early, but it still took her an hour to get there. A helpful tool for anyone riding the bus is a map available inside the buses, with different routes and times. Monthly bus passes cost $17.50, so you can save yourself even more money.