Flooding Continues Along Naches River
Posted:
Updated: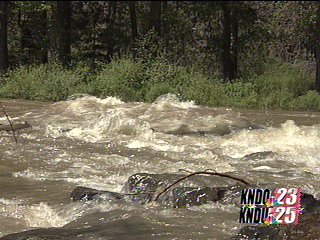 NILE, Wash. -- Near 100-degree temperatures continue to cause flooding along the Naches river. The Nile area has been the most affected this weekend.
Residents on Bedrock Lane have been dealing with flooding for the past few years, and now with the snow pack upstream rapidly melting they are dealing with it all over again and they say they need some help.
The sound of rushing water has kept many residents on Bedrock Lane up the past couple of nights. It's not just the noise that's keeping them awake, but also the fear of the river moving closer to their homes than it already has.
"Each year it's been increasing since '96 when the river cut a new channel. The channel has been getting wider and wider," said Joanne Hansen.
It was a log-jam upstream that redirected the main river into this channel, which use to be a small creek. Now the main river is on this side of the island causing major problems for homeowners.
"We just watched bridges go down, we've watched big timbers go down we've watched the bank erode," said Hansen.
Homes aren't the only thing at risk. Pacific Power crews were out trying to stabilize an electric pole that now stands about five feet into the river. The power company says if the pole is knocked down at least 300 residents will lose power.
The Office Of Emergency Management continues to monitor the flooding they fear residents may have to be on guard for quite a while longer.
"I think because we had a significant snowfall that waters going to melt and come down those streams. So we're going to run at high water levels, maybe not flood stage, for a long time," said Emergency Management Director Jim Hall.
Hansen says, "This is just too much to happen every year. We know this is an exceptional year and it's been a concern for a couple of months that we might get our summer all in one weekend."
What frustrates the Hansens the most is they believe they have the answer to the problem. They just wish they could get some help from the government.
"We'd like to see them correct the issue up at the mouth of this channel where it cut through. They could put up barbs up there or fingers, they call them, that would divert the channel back into the main channel up against the Basalt Cliff that is doing no damage there," said Hansen.
A flood warning remains in affect for the Naches River until further notice. The river is expected to remain above flood stage well into next week.
Emergency workers continue to warn everyone to stay away from all rivers, streams, and canals.