Senator Barack Obama Visits Pendleton
Posted:
Updated: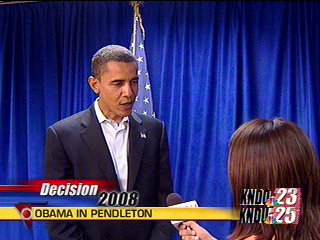 PENDLETON, Ore.-- A full house at the Pendleton Convention Center, all to hear from Senator Obama. Many people came ready with questions.
One woman wanting to know about funding for Hanford, an issue the Senator admitted he didn't' know about.
"I'm not familiar with the Handford site, and so I didn't know exactly what's going on there," said Democratic Presidential Candidate Barack Obama.
But Obama made sure to cover more than just one issue.
"I believe we can provide universal health care for every American," said Obama.
"I want to make college affordable for every young American, so we're going to give them a $4,000 tuition credit, every student, every year," said Obama.
"If we can spend $10 billion a month in Iraq, we can spend some money right here in eastern Oregon putting people back to work," said Obama.
Senator Obama has been opposed to the war in Iraq since day one, and wants to bring our troops home but says services for veterans should also be a priority.
"We're going to have screenings for every veteran, mental health services immediately upon discharge," said Obama.
I total 3,200 people at the Pendleton Convention Center, some of them possible voters in the upcoming Oregon primary.
"We want to win Oregon, so we're going to work as hard as we can in the next few days, obviously a lot of people have already voted, but people still have an opportunity to vote," said Obama.
In hopes of winning the Oregon primary and the Democratic nomination, Obama left Oregon voters with one thing in mind.
"I will be thinking about you, I'll be thinking about how you and your children can achieve your American dream, that's the job of the American president, that's what I hope to accomplish when I'm in office," said Obama.