Regional Hispanic Students Attend Leadership Conference
Posted:
Updated: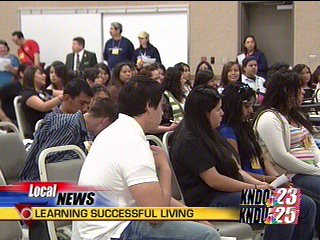 Pasco -- For some people, setting and achieving goals is difficult. It can be especially hard for kids from other countries.
Friday, 70 migrant students from the region were at Columbia Basin College. The kids, who arrived from Royal City, Grandview, Prosser, North Franklin County, and Kennewick were there to learn leadership skills, and how to use their time now to plan a better life.
They also discovered more about problem solving and communication skills. Some had never spoken English until two years ago. Kids also were able to showcase and reflect on their leadership skills through skits and a student panel discussion. The whole intent of the conference is to help attendees gain the needed strategies to pursue higher education.
Nicole Castilleja-Beck, with College Assistance Migrant Program, said the results will be much greater than just sending kids to college.
"We're providing future leaders. We're providing a pipeline to our community to potential leadership in the community. And we're possibly making a change."
Roberto Guerrero, who attends Kennewick High School and did not speak English two years ago, said he attended the conference in order to gain leadership skills which he will practice at school.
The soft-spoken 18 year old said he has been elected President of a club on campus that helps kids who are not fluent in English learn the language. He said candidly that arriving in America unable to speak English was 'horrible.' It was clear Guerrero was not targeting the problem itself, but attempting to explain the difficulties faced by those who are not fluent.
The day-long conference was for kids, while another special two hour training for parents was scheduled for Friday evening at cbc.