Local H.S. Champs to throw out first pitch at M's game
Posted:
Updated: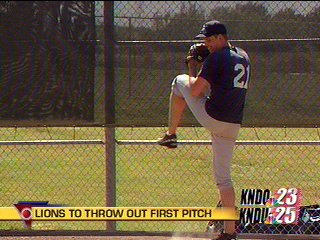 KENNEWICK, Wash. - The dream isn't quite over yet for the Kennewick's Championship baseball team. Two of the Lions have been invited to throw out the first pitch Sunday at the Mariners home game against Detroit. The Mariners are inviting two representatives from each H.S. championship baseball and softball team. They will all line up around 12:30 Sunday and the pitchers will toss a pitch to their catchers.
Kennewick pitcher Tony Bryant will toss to his catcher, Joe Driver. The two were just at Safeco Field last weekend when they won the 3A Championship over Kelso.
"Throwing a pitch out for a big league team in front of all those fans after I just went over there and won a state championship is pretty awesome," said Bryant. "It's a dream come true. You couldn't ask for anything more than that."
"It's pretty surreal," said Driver. "It hits you all at once. A couple of months ago we were pretty low on our season and we came out of that and went all the way to state. Definitely playing there last week was more exciting than throwing out the first pitch, but this will still be a pretty neat experience that not many people will get to do."
Is Bryant nervous about tossing a strike Sunday?
"I'm not nervous now, but when it comes time I'll be a little nervous," he said. "I'm gonna throw Saturday so I'll be warmed up"
Touchet's Thea Sansom and Kelsey Dorman will go represent the Indians championship team. The DeSales championship baseball team won't make the trip to Safeco because it conflicts with graduation.