Crowds Flocking to Backyard Garden
Posted:
Updated: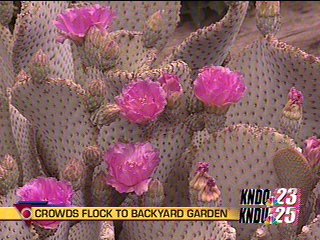 UNION GAP, Wash. -- What started as a normal back yard garden is now, what some call, one of the most magnificent botanical gardens in the world. You won't have to travel far to find it either, it's located right in union gap.
It started twenty-five years ago. It was of course much smaller then, but now it's drawing people from all over our area and all over the country.
Ron McKitrick lives up on Ahtanum Ridge and he says it's the perfect place for cactus to grow. The warm summer months provide a dessert like climate and the cold winter moths actually initiate the buds to grow.
"Mostly it's trial and error, what you see here are the survivors," said McKitrick.
Among those survivors are over 200 hundred different varieties of cactus.
Over the years as the garden grew so did the attention it got. People began coming from all over to see what many cactus experts say can't be found anywhere else in the world.
"My joy is in sharing it with others and seeing their reaction to it, because it's been phenomenal the response people have," said McKitrick.
If you ask Ron what the most common responses are he can tell you exactly.
"I didn't know you could grow cactus in Yakima. I didn't know there were that many kinds of cactus. I didn't know cactus bloomed," said McKitrick.
For others they are just plain amazed by what they see and they can describe it in just a few words.
"Abundance of beauty. (Reporter: Do you every think you'll see anything like this again?) Not in a backyard," said Rosie Neitzell, of Richland.
Ron is a retired pharmacist from Memorial Hospital and shows no signs of slowing down with his garden work.
"The most recent garden was built in February of this year and planted in March an my wife said 'okay that's the last garden right?' and I said 'no honey actually that's the latest garden.' So we'll wait and see," said McKitrick.
June and July are the prime viewing months for the garden and tours will be offered from 9 a.m. to 5 p.m. Reservations are required.
To schedule a tour call Ron McKitrick at 509-248-1742 or email him at hillsidecacti @nwinfo.net.