Divvying Up the Silver
Posted:
Updated: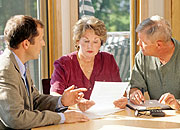 Provided by

Several years before Jeannie Stevens' parents passed away, they invited their three children to an unusual Thanksgiving gathering. The engraved invitation informed the heirs of their right to divvy up more than $1 million of "worldly belongings," including a $90,000 painting by Hudson River School painter Asher Durand, a Heppelwhite sideboard, and a 17th century silver kettle. The siblings drew straws to determine who would pick first and reversed order in successive rounds until everything was spoken for. All of the items were earmarked "for future delivery." At first, Stevens recalls, she and her siblings were "very uncomfortable" with the experience, in part because it forced them to confront their parents' mortality. But when their parents did die, "it made life simple at a very tough time," she says.
When it comes to estate planning, families often focus on the transfer of financial assets such as stocks, bonds, and real estate. But estate planners say it is often personal possessions - items with as much sentimental as monetary value - that can be the biggest stumbling blocks to amicably settling an estate. It's easy to understand why: In comparison with a brokerage account or an IRA, Mom's well-worn books from childhood and Dad's old penny collection are hard to value, never mind divide. Throw in the raw emotions and old jealousies that can flare up when assets are divided, and it's not surprising that arguments escalate. William Forsyth, senior fiduciary counsel at Bessemer Trust in New York City, recalls siblings who fought bitterly over an etching in their mother's home. "The appraiser said, This is not worth more than $15, and if you let me out of here, I'll pay the $15.' Of course, what they were really fighting about was not the etching but who Mommy loved best."
Most people make verbal promises about items or leave general instructions in a will, asking the executor to divide things equally. But estate planners say families are turning to less conventional methods. Some, for example, use the Web to facilitate family auctions of heirlooms or round robins similar to the one the Stevens family held.
Whether it's done online or the old-fashioned way, there are big pluses to giving things away while you're alive. Aside from seeing heirs enjoy bequests, you may realize tax savings. Under IRS rules, you can give away up to $12,000 a year per person - plus distribute another $1 million over your lifetime - without triggering the 45% gift tax. Giving things away when you're alive removes items from your estate. That can be a smart move, because any amount above the federal government's estate-tax exclusion - $2 million today and $3.5 million in 2009 - is subject to a maximum tax rate of 45%. In some cases, it may make sense to pay gift taxes today to save on estate taxes tomorrow. This may be a good idea if you expect the value of what you own to appreciate significantly. Moreover, because estates must pay tax even on the dollars they use to pay the tax itself, those with very large estates may come out ahead by instead paying the gift tax, which is levied only on the value of what's given away, says Jon Gallo, an estate planning attorney at Greenberg Glusker in Los Angeles. Ask your tax adviser to crunch the numbers.
Here are creative ways families and advisers have tackled the challenge of maintaining peace while dividing the family heirlooms.
FIRST: WHO CALLS THE SHOTS?
If you decide you want to designate who gets what, rather than letting your heirs figure it out, keep in mind that it's not always possible to divide things equally. You can, however, strive to be fair. So if you want to give the grand piano to a child with musical talent or a painting to an heir with an artistic bent, consider allocating a greater share of the financial assets to the others. Mitchell Rubin, a certified financial planner in New York, recalls a client who bequeathed her prized possession - a three-carat diamond ring - to her only grandchild with a daughter.
To compensate her other grandkids, she took out a life insurance policy, paid for by the grandchild who got the ring, and named the other grandkids as beneficiaries.
Rather than just assume your gift will be well received, consult with your heirs. "Let them know your wishes, but also find out what they want," says Linda Hetzer, co-author of Moving On: A Practical Guide to Downsizing the Family Home (Stewart, Tabori & Chang; $15.95). "You might say to your daughter, I'd love to leave you the china,' but she may have no interest." If you create a list outlining what goes to whom, check with an attorney to make sure your instructions will be legally binding. In some states, such as California, a list drawn up outside of a will may not hold up if there is a challenge. You might need to incorporate the document, or a reference to it, in your will.
Leaving a simple list is the most obvious approach, but many parents want to give the division of assets a more personal touch. Gallo recalls a terminally ill client who put colored dots on her belongings, with each heir assigned a different color. When she died, he says, the family "had a treasure hunt. They looked behind the painting and said, Oh, Mary, she left this to you.' It turned out to be almost a celebration of her life." Hetzer's mother affixed labels to valuables. "They were in her handwriting, explaining, for example, that this was a pin given to her mother by her [mother's] husband when she had her first child. It was wonderful to come across that." Others make videos, in part to document historic, sentimental, or monetary value of items. To prevent hurt feelings or, in a worst-case scenario, legal challenges, it's vital to explain the rationale for your decisions. Video works well because "it's as if the parent is talking from beyond the grave," says Gallo. "No one can question their intent."
LETTING HEIRS TAKE THE LEAD
You may prefer to have your heirs work out who gets what. Some families hold auctions where, after belongings are appraised, heirs are allotted equal sums to bid with. The value of the items won is then deducted from the bidder's inheritance. A variation on that approach was used by one Texas family to divvy up belongings their mother wanted to give away before she moved out of her home of 45 years. While her four kids - the heirs - hired a professional to appraise the furniture and silver, a granddaughter looked up the prices her grandmother's china was fetching on replacements.com, which sells thousands of patterns. A complete inventory, along with photographs, was then mailed to the heirs. When the four heirs and grandchildren gathered in Texas, "everyone was prepared," says the granddaughter.
The heirs totaled the appraised values and divided by four, giving each child an equal number of dollars to "spend." The grandchildren "could lobby their parents for specific items," says one granddaughter, who received Spanish stirrups. "We used to put them on and clomp around the house. It wasn't an expensive item, but we all wanted them."
The four children drew straws to determine who would go first, and then reversed order. The next day, grandchildren were able to pick over the remnants. Within four hours, the furniture, china, crystal, and sentimental items were gone. That left the silver. The next night, heirs gathered, and one gave a brief tutorial on silver makers. Over cocktails, they made their silver selections. "It was fun," says the granddaughter. "Not everyone got everything they wanted, but it was equitable. There was no acrimony."