East Valley's Komstadius Has Big Decision to Make
Posted:
Updated: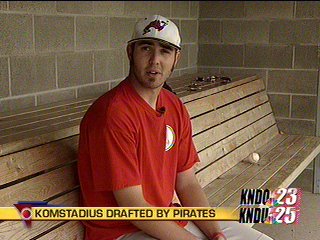 YAKIMA, Wash. -- Friday was day two of the major league draft and East Valley first baseman Kevin Komstadius was anxously waiting to see his name called.
His swing looks almost effortless when he lines balls into the outfield. And the stats support his baseball success. Kevin Komstadius batted .474 with 10 homers this spring for the East Valley Red Devils.
While many times he makes baseball look easy, Komstadius will admit the decision he has to make right now is much more difficult. Friday, he was drafted in the 29th round of the Major League draft by the Pittsburgh Pirates.
He also has a half-scholarship waiting for him at UW. The Komstadius family is looking for a signing bonus of $200,000. But, the Pirates haven't responded yet.
One thing is for sure, baseball is a passion for Kevin Komstadius. He says, "Baseball is what I've wanted to do my whole life. People get paid to play baseball, that's what I want to do."
Kevin says eventually he want to turn pro, but that the draft has thus far not lived up to expectations.
He says, "Things didn't turn out the way I thought they would."
Komstadius says he thought he was going to be drafted in day one, in rounds 1 through 10. But, no matter what he decides he has support from his older sister kaci.
Kaci says, "I just want what he wants. I want him to be happy."
Kevin says, "She understands me more than anyone in the world."
Kevin will need Kaci and the rest of his family as he decides whether school or pro baseball is the best path for him.