ACES Gets $5,000 Donation
Posted:
Updated: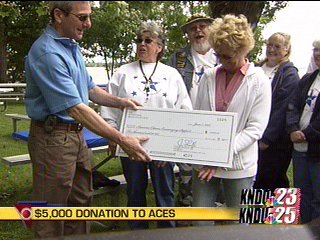 PASCO, Wash.-- There wasn't one reason for ACES volunteers not to cheer on Saturday, as they received a $5,000 donation.
"We got a call about a week ago, from a lady in Alexandria with the CSC corporation, and she said they had studied us and wanted to make a donation to us," said Jim Wetzel, President of the American Citizen Encouraging Support group.
The check to ACES was presented by Martin Zizzi , from Computer Sciences Corporation or CSC. He's no stranger to serving his country.
"I'm an Air Force veteran, 26 years active duty," said Martin Zizzi.
Members from the Family Readiness Group, or FRG were also at Sacajawea Park on Saturday afternoon. They put together a picnic after the presentation.
"It's always hard when the soldiers are leaving, and leaving families behind and children behind, I think it's hard for everyone," said Vinis Jones, a volunteer with FRG.
Both groups are in constant communication with soldiers in Iraq, and also with the families who are left behind.
"Our goal is to do care packages to do family oriented functions while the soldiers are gone to keep the soldiers and the families connected," said Jones.
"All you have to do is read the newspapers daily and see these young men and women, and what they do, all of us were there at one time or another, and it's just part of life supporting them," said Zizzi.
If you'd like to find out more about the family readiness group and donating to this cause, you can call 492-1075. There you can talk to the Family Assistant Coordinator.
Members of FRG have 8 volunteers now and they're always looking for some extra help.