Wapato Man Biking Across the Country
Posted:
Updated: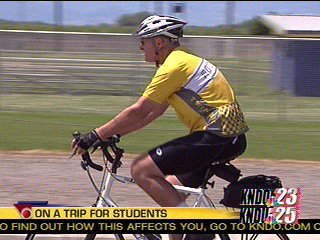 WAPATO, Wash. -- One man is giving his passion for kids some wheels. He plans to do something he loves to help some students in desperate need.
Wapato is a small, rural community. Many kids have dreams of taking what they've learned at Wapato High and putting it towards a higher education. But, many families just don't have the money.
Leroy Werkhoven wants to do something about that. He plans to get on his bike and ride over 3,300 miles from Santa Barbara, California to Saint Augustine, Florida.
And while crossing the country, he plans to raise $100,000 for Wapato and Toppenish students.
Werkhoven says, "In order for students get away from some of the poverty in the area, they need to get an education."
And he no doubt has the dedication. He was the principal at Wapato High School for 15 years.
The ride starts September 6th. Werkhoven plans to average 75 miles a day and pedal for 44 days. That should put him in Florida around October 20th.
Werkhoven says, "This is not a race across the country, this is a trip."
To reach his $100,000 goal, Werkhoven needs to raise 30 dollars per mile. He hopes people will help him support the students he loves.
If you want to help out Leroy Werkhoven and the Dollars for Scholars Program he is supporting; you can check out his blog at leroypedals.blogspot.com or send donations or questions to:
Kit Brown Treasurer Toppenish/ Wapato Dollars for Scholars 241 Joyce PL. Yakima, WA 98908