Local Dad Arranging Father's Day Protest Walk
Posted:
Updated: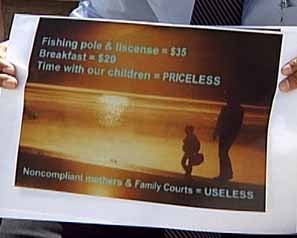 KENNEWICK, Wash.- Kennewick dad Julian Mariscal wants to send a message.
"They have a system, a family law system in place that has proven that it works, so he was just going to place the kids, the children with their mother," Mariscal said.
A father of four this Father's Day, Mariscal is in the middle of a bitter divorce he says is made only worse by the state's stance on child custody; a position where he and some experts say the state of Washington ranks at the back of a nationwide pack when it comes to father's rights.
To combat it, he's organized a walk for dad's like him, starting at Noon on Father's Day at the Benton County Justice Center, who say they've been shorted by the system, a system he says favors the mother.
"All I'm asking is that they give us the opportunity, us men, fathers to have equal rights, just make it 50/50," he said.
Some though, think the system is already fine.
"The typical family pattern was the mother at home with the children, the father working," said Hon. Robert Swisher, a longtime Judge for Benton-Franklin Superior Court.
Swisher, a man who's been caught in the middle of these bitter battles too many times, defended the system he represents.
"The law mandates that both mother and father receive equal consideration in awarding custody to one or the other, and I think both do," he said.
Mariscal thinks otherwise, that's why he has permits to start his walk this weekend at the Justice Center and move toward Columbia Center Boulevard, hoping to get his message heard.
"Four days a month, that's not enough."
He's also started a website for other dad's in similar situations: www.myspace.com/washingtonfathers.