Neighbors Cleaning up after Unexpected Winds Rip Region
Posted:
Updated: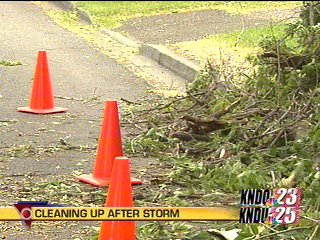 PASCO, Wash.- Neighborhoods were cleaning up Tuesday after high winds ripped through the region overnight.
Trees were torn apart, making it an unexpected day in the yard for many people.
There haven't been any reports of major damage to homes or major power outages so far, but summer yard work was put on hold for some people this morning after winds more reminiscent of winter tore through their yards overnight.
Ernie Vannice was in a familiar position Tuesday afternoon, cleaning up after a June windstorm ripped apart trees in his scenic Pasco neighborhood.
"Anytime it made a thud I'd come out and I'd check, and, yeah that's a big branch, so I'd get it out of the way and usually across the sidewalk there," Vannice said.
For almost his entire life, Vannice has been the neighborhood cleanup guru along his maple lined section of Park Street. A section of town hit hardest every time winds like this come through.
"I like to just keep the neighborhood tidy. We have a place to put it, so I go out, retrieve it and cut it up and get it out of the way," he noted.
The deed doesn't go unnoticed by neighbors like Vickie Anderson, who's enduring her first year without the scenic maple that once adorned the front of her home. The tree was cut down after disease made it too dangerous to have hanging over their living room.
"They bring their saws out and it's kind of a community thing," Anderson said.
Vannice and Anderson say it's just part of the cost of living in a scenic tree lined American neighborhood like theirs, but warn, Ernie does get a little warming reward for all his hard work.
"We got two fireplaces, we got one upstairs and one downstairs. All the wood we have, ever got we'd like to get, especially if it's free," noting the free firewood he does get out of the cleanup.
The worst damage we've had reports of occurred Monday night in Richland where a car windshield was broken after branches came down on it.
Other than that people seem to have escaped relatively unharmed.