Kennewick Intersection Floods After Water Main Breaks
Posted:
Updated: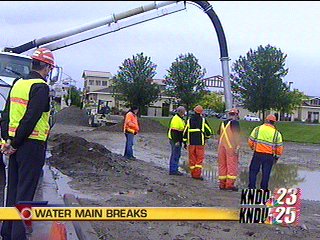 KENNEWICK, Wash.-- Around 8:00 a.m. on Tuesday morning, the corner of Gage Boulevard and Center Parkway flooded by a construction accident with a bulldozer, but it wasn't because of digging.
"What is was is that they were in the process of moving dirt and just the weight of the vehicle from the crossing compaction had caused the AC main to break," said Pat Everham, Field Services Supervisor for the City of Kennewick.
At around noon workers were still trying to get the water out. City of Kennewick staff say some businesses and homes around the area had no water.
"We got the water shut down, almost everybody is back to business, we got some temporary tie overs in some of the areas," said Everham.
City crews used two vacuums to suck the water out. One picking up about 1,500 gallons of water per trip.
The second one connected to the main sewage line. City maintenance staff say they couldn't use one of the vacuums to its max capacity because it could make things worse.
"Too much water is going to overload that main hole right there and may cause problems at the treatment plant, but things are looking good right now, and it's just going to take a little time," Jim Espinoza, maintenance worker for the City of Kennewick.
City staff say the broken pipe was made of concrete, and will be replaced with a plastic pipe instead. The city also says they've gotten a few phone calls about water complaints.
"We've also gotten some calls about dirty water, because what happens is when that water rushes to one spot it stirs up the minerals, and it's not harmful or a health hazard, it's just the minerals," said Everham.
Many of the restaurants around the area were closed for most of the day. Staff at the Health District say the State Health Department is working with the city to make sure the water is not contaminated with any bacteria.
As of 6:00 p.m. on Tuesday restaurants were allowed to open back up.