Online Prostitution Proved To Be Dangerous In Kennewick
Posted:
Updated: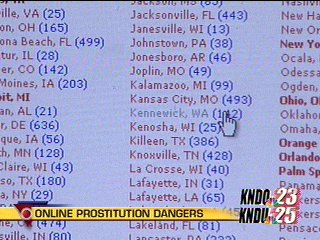 KENNEWICK, Wash. - Police report that more prostitutes are turning to the Internet to meet clients and it has proven to be dangerous.
Police say a man was severely beaten after seeing a prostitute.
Authorities report that prostitutes are posting ads on escort websites like Cityvibe.com to met clients and use code words to let people know how much their services cost.
Kennewick is one of 323 cities around the world listed on the website.
Kennewick Police Detective Brian Pochert said they use the website because, "they think it's safer and easier not to get detected by us."
KNDU contacted some of these escorts. They said prices and an exact description of services would be discussed in person, not over the phone.
Pochert said buyers should beware and realize that ever time you use one of these services you could potentially be a victim of a crime.
Authorities say that is exactly what happened to a man earlier this week on Clover Island in Kennewick. He allegedly saw a prostitute, was then assaulted by her boyfriend and then kidnapped.
He jumped from a moving car and suffered serious injuries. He was flown to a Portland hospital.
Pochert said, "We've seen escorts rob before ... It doesn't surprise me." However Pochert said it is very difficult to investigate these type of crimes especially since much of it is done over the Internet.
He said locally there is not enough staff to go after these criminals.
Police think there are many more victims out there and believe that they don't come forward because they're scared to get in trouble.
But Pochert said at this point they could use all the help they can get, even if that means an anonymous tip to provide them information.