Mammoth Fossils Found In Kennewick
Posted:
Updated: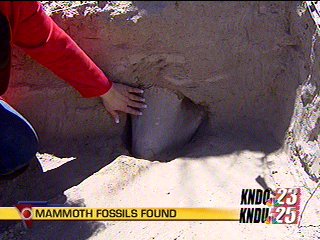 KENNEWICK, Wash.-- 27 acres of land Southwest of Kennewick are the site for a new archeological dig.
"I think we have a Columbia mammoth, and I believe this might be the hip bone, and we've found some ribs and a jaw bone," said Cindy House, realtor with A & V Enterprises.
Cindy House is the realtor for this land. She says it already has an owner.
"I had a client that was interested in buying the site, specifically for keeping it here in the Tri-Cities," said House.
Students and archeologists from Central Washington University were at the site in May. They've asked students at Kamiakin High School and other Kennewick schools to help out.
"The kids will be doing much of the work out here, working with the archeologists," said Gary Kleinknecht, teacher at Kamiakin High School.
This Kamiakin teacher is also involved with the Ice Age Floods Institute. He says he first thought the fossils were from above the levels of the highest floods. But some of the rocks show otherwise.
"It's looking more like it could have been one of the early big floods, that maybe killed and deposited the creature right where it's been, and it's been sitting there since the flood ended," said Kleinknecht.
Scientists from the Pacific Northwest National Lab, have stopped by the site. They say it will take some time until the whole thing is finished.
"This one we got a real issue because it looks like most of the animal could be under this big bluff, so it's going to take quite a bit of work to get all that material off this mammoth find," said George Last, Geologist with the PNNL.