Over $20,000 in Lawn Equipment Stolen in Broad Daylight
Posted:
Updated: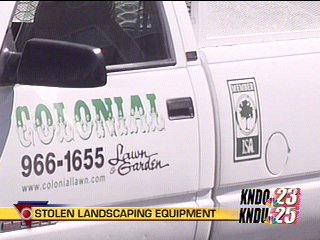 YAKIMA, Wash- Local landscape business loses big money in a bold move by thieves.
"When it's loud you don't here any other vehicles or anything taking off," said Freddy Gonzales, a foreman for Colonial Lawn and Garden.
The circumstances surrounding the theft of a truck, trailer and lawn maintenance Tuesday June 17th were similar to the scene Gonzales describes. Around 9:30 in the morning the crew from Colonial worked near the Yakima Museum on Tieton Avenue.
Owner of Colonial, Lance Forsee explained what happened to his crew, "They came up out front and realized our truck, trailer and lawn equipment was stolen, so my employee called 911 and realized there is a police car about thirty feet from where this theft happened."
An officer was in another building at a meeting and by the time he made it outside the truck was long gone. According to Forsee the truck and equipment is worth over $20,000.
And he has had equipment taken before--the same Chevrolet four wheel drive pick-up truck was stolen and recovered last year.
"It's hard to keep an eye on everything and equipment and we're so far away sometimes," said Gonzales.
Forsee says he's frustrated that his crew has to constantly watch the equipment, it makes it hard for them to do their job.
"We will have to buy some lawn equipment that we likely won't get back. We're still holding out hopes that we will get the truck or the trailer back," said Foresee.
"Hopefully if anyone knows anything they can let us know so we can try and find this," added Gonzales.
If anyone has information regarding the stolen vehicle or equipment they are urged to contact the Yakima Police Department, 509-575-6200.