Hundreds of People On a Waiting List For Vanpool Service in Tri-Cities
Posted:
Updated: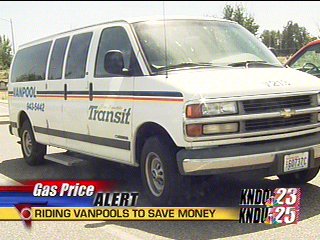 KENNEWICK, Wash.-- Todd Myers has been getting to work on a vanpool since last September. He drives himself and nine other co-workers 83-miles to and from Hanford.
"It's a 15 passenger van and I think most of the vans run I'm guessing probably 10 riders and a driver, it's a pretty comfortable ride," said Todd Myers, who works at Hanford.
The ride to work is free for Todd Myers because he's the driver. But vanpool rates change depending on the mileage and number of riders.
"Well I have an expedition so that's easily $70 a week, the van costs me $75 a month, so I'm saving quite a bit," said Ismael Campos, another worker at Hanford.
But not everyone is as lucky as these two. Many have been waiting for months to get a vanpool.
"We have 138 groups on a waiting list for new vans," said Edwin Frost, Transit Development Manager for Ben Franklin Transit.
138 groups with about 8 to 10 people per group. To solve this shortage BFT has ordered more than one hundred new vans.
"But even with that we won't be able to keep up with the demand," said Frost.
The monthly vanpool rate pays for gas, maintenance, insurance, and replacement of the car. Myers says they fill up every four days, spending up to $100 for gas.
"With the money we save you know we can do vacation and not have to worry as much," said Myers.
With such high demand, these Hanford workers say people are always looking for an open seat.
"It's almost never hard to find somebody to join the vanpool even on shift work," said Campos.