Shocker! U-1 Elam Plus announces it's not going to Evansville, Madison or Detroit!
Posted:
Updated: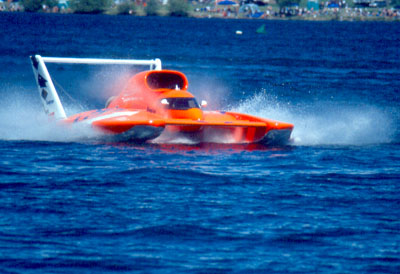 News Release:
Friday, June 20th, 2008. (Seattle, WA.) The reigning National and World Championship unlimited hydroplane team, the U-16 (U-1) Miss Elam Plus, has decided to stay home for the first three races of the 2008 ABRA race season, not because they want to, but because it doesn't make real business sense to go. This has been a difficult decision to make, but it was necessary.
First of all the team owners, Erick and Sven Ellstrom along with several constituents, have been investing a large amount of money and time to take the sport to an international level, racing in other countries, something that has only been dreamed about for nearly 100 years.
Erick Ellstrom remarked: "We have an opportunity, if we play our cards right, and diligently work out all the details, to have a seasonal circuit that will race in foreign lands. Abu Dhabi, Dubai, Monte Carlo, Oman, Muscat, England and several other wonderful locations are working with us to fashion an actual race circuit that would begin in late November and conclude in early January each year. This is an entirely new presentation and has taken over a year to put together. We are working with several heads of state, the Boeing Company, as well as a host of city council members and city officials. This is no longer a dream and we have an actual signed agreement that will allow, in the first season - 2008, 4 hulls to be brought over to these countries, and put on exciting exhibitions in the various cities, with the hope that in 2009 the (Abu Dhabi International Boat Racing Association) ABIBRA World Championships will be held in Abu Dhabi, much like they are doing with Formula One Racing and even golf. These people are extremely excited to have us come and have opened the door to an opportunity that may never come again. We have been doing all we can to make sure we present ourselves professionally, and responsibly."
Abu Dhabi is the capital and second most populous city in the United Arab Emirates (UAE). It is also the seat of government of the emirate of Abu Dhabi . The city lies on a T-shaped island jutting into the Persian Gulf from the central western coast. Approximately 1,000,000 people live in Abu Dhabi as of 2008, of whom 80% were expatriates. One of the world's largest producers of oil, Abu Dhabi has actively attempted to diversify its economy in recent years through investments in financial services and tourism. Abu Dhabi is ruled by Khalifa bin Zayed Al Nahyan, who is also the President of the UAE.
"Because of all the energy and time this has taken, and the continuing demands, our company just cannot afford the time to compete at the first three eastern races this year. We are ready to go, and I am sure we would be very competitive as always, but we have had to make a very tough decision. We want everyone to understand that this decision has been thought about for over a month now, and weighs heavy on our hearts. In addition, Ellstrom Manufacturing is enjoying one of its busiest years and especially the work load on the machining side of our company. I just cannot leave at this time, and still feel like we are making a wise decision." Added Erick Ellstrom.
"We want to wish all the teams a very safe and successful eastern campaign, and to look over their shoulder in Tri-Cities and Seattle. We love to compete and do so very well. This is also very tough on our driver, Dave Villwock and our dedicated crew, but they also understand the total picture and how and why we are investing in the future. Our family has been involved in unlimited racing for over 15 years now, and have tried to support the organizing body, the various race sites, the broadcasting media, and many of the race teams in anyway we can. We firmly believe that we are entering into a new and exciting chapter of unlimited racing, and furthermore we are honored to have the opportunity to be able to put this all together. In addition, we feel that this added international publicity will increase sponsorship support, bring in millions of new fans and help to stabilize a sport that has seen some pretty rough years. We are working on "race purses" so teams can once again compete for money as well as trophies. We haven't had a purse in nearly 14 years, so the incentive of many teams to "risk-all" has just not been there. This is going to change and make the racing even more exciting and challenging. We need to grow, mature, and fully realize our potential. This gives us an opportunity to do just that." He further remarked.

Reaction from Sam Cole, head of ABRA >>