Skin Care Tips for Summer
Posted:
Updated: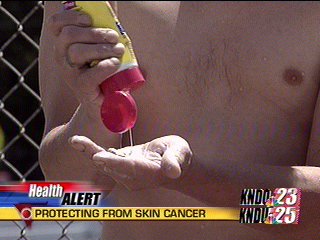 YAKIMA, Wash. -- Summer means time by the pool, barbecues, picnic and clear sunny days, but with all those outdoor activities comes your highest risk for skin cancer.
On average 47 people in Yakima County are diagnosed with Melanoma--the most serious form of skin cancer. Doctors say that's only the number of cases diagnosed, not the number of people walking around with cancer.
A Memorial Hospital doctor says there is still a lot of information missing for skin cancer cases.
"What we know about skin cancer in the us is probably the tip of the iceberg," said Dr. Carl Olden.
Every year at least six skin cancer patients are diagnosed with fatal conditions in the Yakima County. Doctors say residents in Yakima need to be extra careful.
"It's a place where we get lots of sun exposure, a lot of people work outside and a lot of people that have had lifelong sun exposure," said Olden.
Getting in the routine of putting on sunscreen every morning is the best way to reduce your chances of skin cancer, but there are other things that can help too.
Marlene O'Halloran plays tennis a few times a week and says she wears sunscreen everyday.
"Most people I play with wear some kind of head gear, sun screen and sunglasses," said O'Halloran.
Doctors at Memorial Hospital suggest keeping these items near the front door so you can grab them on your way out. They also say your eyelids, behind your ears, under your chin, and under your nose are the most common places where people forget to apply sunscreen.
Warning signs for skin cancer can be irritated and itchy skin, changing and growing moles.