C.A.S.T. for Kids
Posted:
Updated: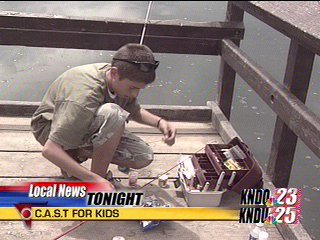 YAKIMA, Wash -- Children ages seven to 16 reeled in some fun today, fishing at Sarg Hubbard Park.
The C.A.S.T. for Kids program, which stands for "Catch a Special Thrill," gives children with disabilities or illness the opportunity to get outdoors and enjoy a day of fishing. Kids are given all the tools necessary to catch the big one--fishing gear, a t-shirt and a hat. There were also fishing buddies on hand to help the young anglers. The pond was stocked to the gills with trout, thanks to the Department of Fish and Wildlife.
"There are some of them that are like two or three pounds and to see these kids struggle with that on the other end of the line and the way their faces light up is just unbelievable. I mean that's why I do this just to see the look on their faces when they catch a fish is just unbelievable," said Jim Owens, executive director of C.A.S.T. for Kids.
The Bureau of Reclamation was one of the main sponsors of the event. Owens noted that he enjoys seeing the volunteers from the Ft. Simcoe Job Corps Center because he said it is kids helping kids. Other sponsers include: Children's Village, Starbucks Coffee, Valley Septic, Culligan Water Softner, Pepsi, Albertsons, Safeway, Yakama Nation Legends Casino, TreeTop, Inc. and the local Carpenter Union #770.
After a morning of fishing the children were given awards and everyone enjoyed a bar-b-que. To get involved with C.A.S.T. go to the Web site: www.castforkids.org