Summer Tips to Prevent Heat Exhaustion
Posted:
Updated: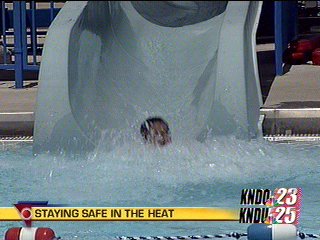 Summer months are the hottest of the year. During such extreme heat its important to remember to stay hydrated. The American Red Cross recommends staying out of the sun between noon and four. One construction company starts their day earlier to beat the heat.
"If you feel thirsty then go get water. There's no point in pushing that far cause it's just not safe," said Construction Worker Seth McGuire.
Drinking water every hour and before you get thirsty is one of the best ways to prevent heat exhaustion. Juice with low amounts of sugar can also help. Sunny summers often bring more people outdoors but as Sheriff's Deputies explain, it has its drawbacks.
"You have a lot of people that want to get out in the sun and warmth and they feel its great and they don't realize how hot it really is and what the effects can be on the body," said Sgt. John Durand.
Symptoms of heat exhaustion include constipation, dehydration, nausea and headaches. Young children and anyone over the age of 65 are more likely to be affected by heat waves. The Sheriff's Department recommends staying out of the sun by going to public places that have air conditioning like malls or libraries.
Other options are to wear light colored and loose fitting clothing and to wear hats and sunglasses when you're outside. If you're going to make a quick stop on the way home, be sure to take your kids and pets out of the car.