A Mother Grieves Her Son's Death
Posted:
Updated: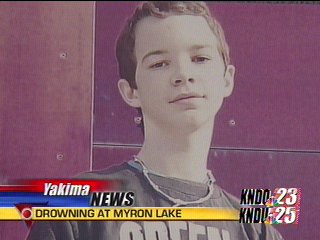 It was a parent's worst nightmare. On Saturday a mother drove to Myron Lake, looking for her son. When she arrived, the fire department told her 15-year-old Zachary Rilea had drowned. Barbara Martinez didn't even know he was there.
"They need to put a fence or a barrier or something you know in the oceans and lake they have those buoys at the drop off," said Barbara Martinez.
Myron Lake is a rock quarry, with shallow water that has a drop off of 60 feet. The water was deep and very cold ... And Zachary was not the strongest swimmer. Martinez told us that a young girl saw Zachary drowning and called 911.
"It hurts so much to lose a child like that," said Martinez.
Martinez says the lake is very dangerous and as she left with the fire department that day, a car full of kids were just getting ready to swim.
"Its a death trap...no one else should have to feel like this."
Martinez says hopes her son's story becomes lesson for others. She says something needs to be done to warn other families but one worker says there's not much that they can do.
"We can advise them but we can't tell them to get out," said Les Rew, a Greenway courtesy driver.
The Sheriff's Department says one of the biggest mistakes is underestimating your swimming ability. Sergeant John Durand suggests swimming in pairs or groups and always wearing a life vest. He also warns that distances are deceiving and that you should never venture out too far.