Car Fire Warning Signs
Posted:
Updated: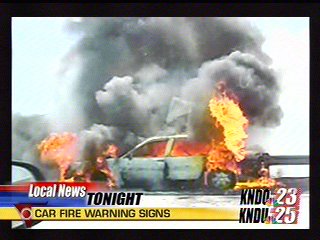 KENNEWICK, Wash-- With rising summer temperatures, most drivers keep the air conditioning on while driving, but firefighters say it puts extra pressure on your car's engine which could result in a car fire.

The biggest warning sign is your temperature gage. If it starts to stray from the middle and move to hot, pull off to the shoulder or find a safe place to pull over and let your car cool off.
Make sure you turn off both the radio and the air conditioner.

If you're driving and you see smoke coming from your car's hood, pull over immediately and get out. Call 9-1-1 and move far away from the car. Also, try to keep other traffic away while you wait for the fire department.
"I would not take the time to remove any personal belongings from the vehicle. It can burn very quickly and my main concern would be exiting the vehicle," said Jake Van Horn, Firefighter at the Kennewick Fire Department.

Firefighters say every year, several people die in car fires. These fires put other cars on the road at risk because they usually happen on highways making it hard for drivers to avoid them.

Car fires are not always preventable, but regular engine check-ups and car maintenance are critical in finding any potential problems or hazards.