MADISON 2008: River conditions cause $150,000 worth of damage to Unlimited Hydroplanes
Posted:
Updated: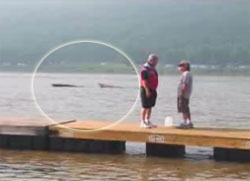 Logs pop up on the river, Madison 2008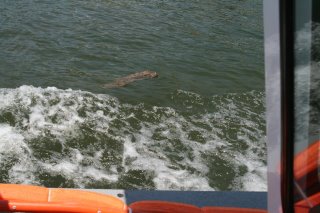 Logs in river, Madison 2007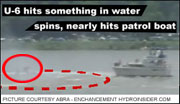 U-6 nearly hits patrol boat after hitting something in the water, Madison 2006
UPDATE: I've had a fair amount of response to this article. That's good. The whole idea is to spark debate. Isn't that what makes sports (and life) interesting? But let me clarify. I'm not suggesting we scrap racing at Madison. Rather, we need to embrace the heritage there and protect the race site for the next generation of fans. The question is how.
Is it crazy to think that with all the engineering brainpower in the sport, someone can't come up with a technology solution to the debris... or that someone should be working the political wheels to help manage river flow on race weekend? In the Tri-Cities, they work with the governmental authorities to open or close the dams necessary to have the right water levels for races... even for testing. And they do this multiple times each year for various events on the Columbia River. That's often a function of coordinating efforts with two state, three agencies, and multiple dams.
Can we really not put barge traffic on hold for a day? One day? Not only do the barges kick up debris, they took out buoys in Evansville.
There's nothing more poignant than racing at Madison, the whole town cheering for the hometown and community owned boat. Seeing those boats make the turn at the bridge and race for the home stretch is a thing of beauty and unique in all of sports. It it to be celebrated. To be preserved. And to be strengthen for years to come.
To re-evaluate Madison isn't to scrap it. It's to protect the safety of the drivers and the teams. And make it a place they can celebrate as well. I'd like to hear your thoughts. Please add them in the comments section here.
It's time to re-evaluate hydroplane racing at Madison. Seriously.
Maybe a different time of year? Maybe a technology solution to capture debris? Maybe a different location on the river?
Madison 2008
For the third straight year, we've had dangerous conditions on the river due to high river levels. ABRA's Sam Cole estimates they chewed up $150,000 worth of equipment this past weekend because of the logs.
With the sport in serious money trouble, how can they afford that? The appearance fee paid by Madison would barely cover the damage to the equipment. That means, on average, the teams all lost significant money by showing up and racing.
The U-10 Ahern Rentals team won a heat, had substantial damage, fixed it... and then declined to run again after that. "We are hearing about solid wood from one end to another on the river," Kim Gregory, owner of the U-10 said. "We have already lost a rudder." He pulled the boat after only one heat rather than take the risk, instead saving the boat for the Gold Cup next weekend.
"It is the equivalent of throwing marbles on the Indy 500 track," U-6 Oh Boy! Oberto/Miss Madison drive Steve David said earlier in the day. "this was rough day for everyone."
"Broken boats make a bad show," said U-37 Beacon Plumbing driver Jean Theoret after more than half the fleet was damaged at Madison in 2006.
2008 VIDEO: Logs floating by >>
2008 STORY: River levels rise dramatically, causes delays due to debris >>
Madison 2007
Same thing last year. High water up river forced the dam to be opened and the water's flowed. The boats never got on the water on Saturday. Sunday, more than a few got chewed up.
"When you have a boat going the speeds we are going and you see a four foot log in front of you, it is impossible to maneuver around the debris," said U-16 Elam Plus driver Dave Villwock at Madison in 2007. "This race course has always had debris, but this is not safe."
2007 STORY: Boats try to maneuver around pop-up logs >>
"What you see from a boat is only the debris that's floating," said Villwock. "Then you see some of those 'periscope' logs (small branches on top of the water) and you have no idea how big the log is below the water. You can see much of that from the air."
"It's kind of like a blind date," U-6 driver Steve David said about river conditions at Madison; "until you have it, you don't know what you've got."
2007 STORY: Saturday racing at Madison canceled >>
Madison 2006
And that was a big improvement on 2006. The damage that year was severe, crippling literally 60% of the fleet. Again, high water meant a dam release and pop-up logs.
Steve David hit something in the water and barely missed crashing into a patrol boat on the inside of the course. The U-6 hit something in the water at the turn pin. "Sheared off the rudder," said David. "No control whatsoever."
2006 Photo & Story: David barely misses patrol boat >>
"It was totally in God's hands," said Steve David after doing a 360 and nearly hitting a patrol boat.
"The water looked reasonably well, " said Jimmy King, U-3 driver, describing the Madison course. "The problem is - we call them prop getters. It's the stuff that gets you, it's below the surface."
"We have to put a show on, but the concern is safety," said U-37's Jean Theoret. More than once officials shut down the course to check for and clear out debris, including logs that popped up.
2006 STORY: Lots of debris at Madison >>
Crews work hard to catch debris
It's not for a lack of concern or lack of work. Plenty of crews were out on the river pulling out debris and dragging it to shore. It's just that the job may be too big to get done in a timely manner. And then there's barge traffic.
Barge traffic isn't completely stopped down for hydroplane racing. When barges would come through, it would often pull up stuff behind it.
Can barge traffic be shut down for the entire time boats are on the water?
"I wish we had more people up river to catch debris... maybe nets to catch it," said Theoret. He's not the only to suggest giant nets strung across the river to catch the debris. They'd have to be big; they've have to be strong; and they'd be expensive. Maybe too expensive to make sense.
Each year, high water levels were caused by a sudden release by dams upstream. There was some discussion that there wasn't any consultation with the race officials, or local governmental authorities, before the release was made.
The river level in 2008 went up four feet overnight, increasing debris and putting some of the pit area underwater. It wasn't the first time that happened either.
2008 PHOTOS: High water creeps up on pits >>
"You're fighting the fastest boats in the world, the best drivers, and the river," said David. Sometimes the river wins.
Can anything be done about the water release during race weekend. Maybe.
2008 STORY: Indiana Governor weighs in >>
"Sam (Cole) gave us an assignment for next year," said Indiana Governor Mitch Daniels, who was on hand to present the Governor's Cup trophy to the U-5 FormulaBoats.com team. "We'll talk to whoever runs that damn dam."