Fire Reserves Help Firefighters Stay Cool
Posted:
Updated: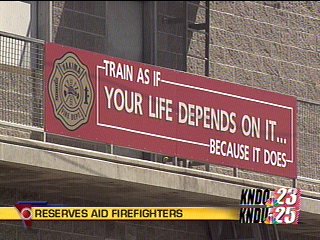 YAKIMA, Wa.- Firefighters put out over 150 fires a year but it's the people outside of the fire suits that help make a big difference. Fire department reserves are on-call volunteers who help firefighters rehabilitate at fire scenes and encourage them to keep on going.
"It's a very exhausting job and they can get over-heated. We have to care for these guys," said Fire Reserve Jim Erixson.
Thirteen reservists respond to emergency situations and supply firefighters with drinks and energy. They are there to support and comfort fire victims and their families while firefighters put out the fires. One reservist says this is how they change lives.
"To let them know that there's somebody that cares for them. To let them know that they're not alone," said Erixson.
The volunteers also do office work, fundraising and plan educational events around the community. Firefighters say their work alone is saving tax payers over half a million dollars. Deputy Fire Marshall Ron Melcher says it's their time and dedication that is most valuable.
"They very well could be saving a life because they're teaching this info to children," said Melcher.
The fire reserves are fixing an old bus to use as their rehabilitation vehicle. The bus will go to all fire scenes and give firefighters a place to cool off and re-hydrate.