DETROIT 2008: U-3 Chrysler Jeep qualifies, fighting off engine problems
Posted:
Updated: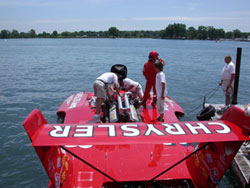 PHOTOS - Mike Fetscher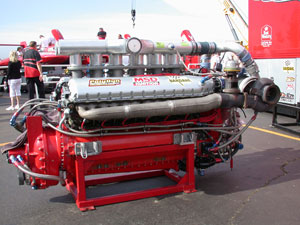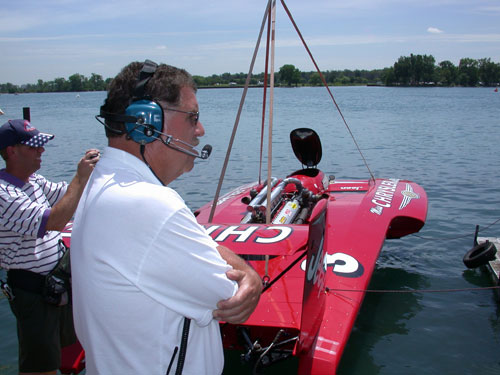 DETROIT, Mich. - It's been a tough start to the 2008 Unlimited Hydroplane racing season for the U-3 Chrysler Jeep / Master Tire. The team is hopin to turn that around in Detroit and they took the first steps in Detroit after more trouble in the morning.
The U-3 is fighting problems with the turbo charger, according to Ed Cooper. The first time out in a qualifying run on Friday in Detroit, Jimmy King didn't even make it a full lap before heading back to the shore to have the engine checked out.
They went out twice more on Friday, but with similar results. The U-3 is unique in that she is powered by an Allison V-12 piston power plant, a motor originally used in World War II fighter planes. It's the only piston powered boat on the circuit.
Still, the team thinks the future looks good for Detroit and forward. "We were leading the race both times (in Evansville) until we lost the engines," said Cooper.
Friday afternoon update:
The U-3 Miss Chrysler Jeep came out swinging in the final qualifying period for Friday. Driver Jimmy King started the run off easy and made sure everything was in working order, then he opened up the V-12 turbocharged Allison engine and posted a two lap qualifying speed of 156.156.
Lap two was his fast lap when the "Turbinator" cruised around the 2.5 mile course at an average speed of 158.111
Madison and Evansville
They blew up a couple of engines in Evansville and had to do a huge amount of work to get the boat to Madison.
Then, the troubles started again at Madison...one of the engines burned some of the decking that had to be cut out an replaced. Still, the boat made it to the pits and on the course. "We were ready to go racing, when we got out here, things were looking good," said U-3 driver Jimmy King.
The team had planned to be careful. "When we got up to the start, the oil presure went crazy, so we brought it in," said King.
Owner Ed Cooper said "We're being extra cautious."
"Madison's my home town. I hate to let them down," said Cooper. But when the oil pressure started fluctuating they simply didn't want to risk blowing up yet another engine.