Yakima County Search and Rescue Tests New Recruits
Posted:
Updated: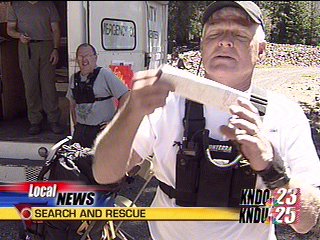 NACHES, Wash-- A new batch of rescuers has been training for a year and this weekend is designed to test their skills.
In a mock search and rescue, they have two days to piece together the clues and find the "missing people" in the hills of Chinook Pass.
With around three hundred days of sunshine Yakima County attracts a lot of people. Whether it be for the camping, fishing or hiking. This also means plenty of people get lost.

"We get a lot of people that are novas. We get a lot of experienced people that some how manage to get themselves lost or turned around or whatever. We just spend a lot of time helping people get un-lost," said Gerrold Towell, sergeant of special operations for Search and Rescue.
Sergeant Towell said they have done up to 90 searches in one season, but average around 60.
Yakima County is one of the largest counties in the state and with territory to cover like that Search and Rescue is always in need of volunteers.
"I mean it just does a really neat thing for you to be able to find these people and have their families there and appreciate the fact that they could have lost someone had Search and Rescue not been involved," said Paul Billings a trainee.

With 4,200 square miles to cover, mapping is an essential part of the training process, but it takes practice.
"It's been helpful in the field to have the mapping and orientation skills because you can be on a road and after a while they all begin to look alike," noted Cody Tusler, trainee.
"It's extremely rewarding there is nothing more rewarding than finding of saving a persons life," said Sgt. Towell.
For more information about search and rescue, go to the Web site: http://www.co.yakima.wa.us/SAR/Yak_Cnty_SAR.html