A Southwestern Panorama for First-Time Visitors
John Ford Point in Monument Valley, a Navajo Nation National Park. (©Barry Abisch/WorldNow)
By Barry Abisch
Provided by WorldNow
The Grand Canyon has long been near the top of our "to see" list, and my wife and I agreed that this would be the year we would move it to the "been there, done that" side of the ledger.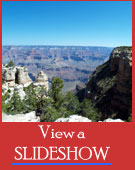 On this trip, sensory overload was a real hazard. These are places that are experienced as much as they are seen, especially by a first-time visitor. Here are just a few of the lingering impressions:



MONTEZUMA CASTLE NATIONAL MONUMENT

The "Castle" is a 50-room pueblo built into the rocks by the Sinagua people some 600 years ago. Nearby is a collection of caves that also served as homes in prehistoric times. None of this has anything to do with the Aztec emperor for whom the castle is named. The Spanish explorers who "discovered" the Beaver River Valley apparently presumed the buildings had something to do with Montezuma.

SEDONA

We make a lunch stop here and some members of our group take a guided walking tour. We pass, explore the one-street downtown on our own and enjoy more-than-decent fajitas on an outdoor deck overlooking the famous Red Rocks. We are told that one formation looks like Snoopy. I see him, my wife does not. She'll get even at Zion.

LAKE POWELL

The second-largest manmade lake in the U.S. backs up behind the Glen Canyon Dam, and the national recreation area here claims to be the houseboat capital of the world. The Lake Powell Resort, where we spend two nights, proves to be a convenient -- and comfortable -- staging area for our excursions in the area.

ANTELOPE CANYON

There is a reason this is called a "slot canyon." It is just that: a slot in the rocks, little more than shoulder wide in places. The colorful rocks corkscrew 120 feet above the sandy floor. The canyon was carved by rushing water, and driftwood wedged in the rocks far above demonstrate that flash floods often reach halfway to the top. Our guide assures us that the U. S. National Weather Service alerts the Navajo police when a flash flood is imminent. He says the warning usually comes in time.

MONUMENT VALLEY

The flight from Page, Arizona, near Lake Powell, takes us low over Rainbow Bridge National Monument,said to be the longest natural bridge in the world. The pilot circles twice to make sure people on both sides of the place can take pictures. Monument Valley is on Navajo land, and we tour with a Navajo guide. The area is known for buttes and mesas with fanciful names: the Mittens, the Three Sisters, the Sleeping Giant. This is where the filmmaker John Ford shot some of his classic John Wayne westerns. A Navajo, on horseback, poses for us on John Ford Point.

GRAND CANYON NATIONAL PARK

If any place lives up to its name, this is it! Watching the setting sun tease changing colors out of the rocks proves hypnotic. A rare California condor breaks the trance when it soars into view, trying to catch the last updrafts of the waning day with its 9-foot wingspan. This is what we were waiting for. When Mike, our Tauck guide, says there are better things to come, he understands our skepticism.

BRYCE CANYON NATIONAL PARK

Mike's point is that the Grand Canyon is so large that it is beyond comprehension. He says the experiences at Bryce and Zion are more intimate, and he's right. "Hoodoo" is a geologist's word for a rock spire, and there are more hoodoos at Bryce than anywhere else in the world. They establish themselves in formations, connected by skinny rock fins, and they always look like something else. Castles, cathedrals and medieval cities come to mind.

ZION NATIONAL PARK

The Colorado Plateau is a desert, or near-desert, but Zion is amazingly lush. The Virgin River irrigates the valley at the bottom of the 2,000-foot gorge. More intriguing is the water oozing through the rocks, nurturing hanging gardens and creating a habitat for the tiny Zion snails. The snails, little bigger than a pin head, live nowhere else in the world. My wife, who could not spot the giant rock Snoopy at Sedona, finds the little fellows here right away.

LAS VEGAS

The tour ends with a night here, but we had decided to stay a couple of additional days. We hire Pink Jeep Tours to take us to Hoover Dam. The Jeep turns out to be a Chevy Suburban, but it most definitely is pink. Back in Vegas, we are disappointed that we do not spot more than five or six Elvises, including the one at Madame Tussaud's.
We had set aside one week for a late-spring vacation, and we knew we could spend the entire time at the Grand Canyon. The canyon is one mile deep, 10 miles wide and winds for 277 miles; that is a lot of territory to cover. If we spent a week, we would be able to take an overnight mule ride into the canyon. We could also find out if we trusted the engineers who built a glass-floored observation platform which hangs over the canyon with no visible means of support. And we still would not see it all.
However, we are New Yorkers, and this would be our first visit together to the American southwest, where the Grand Canyon is not all there is to see. It is one of two dozen national parks scattered across the 75,000 square miles of the Colorado Plateau. And national parks are only part of it. So we agreed on Plan B, selecting an itinerary that included three national parks, one Indian reservation and the houseboat capital of the world. More panorama than closeup, but, for us, it was the right choice.
You can visit the Grand Canyon and the other nearby parks and natural attractions on your own; Phoenix and Las Vegas have the closest major airports. But we began taking group tours several years ago and decided to do it again. We find it's less stressful -- and more enjoyable -- when you can take in the scenery without having to keep one eye on the road. We also like having a guide who can explain exactly what it is we are seeing. You give up some spontaneity with a guided tour, but when you arrive at a stopping place, your dinner reservations already have been made.
For this trip, we booked Tauck World Discovery's 8-day American Canyonlands tour. It is one of Tauck's most popular trips, with overnight stays at three national parks: Grand Canyon, Bryce and Zion. We also visited Montezuma's Castle National Monument, cruised on Lake Powell, walked through Antelope Canyon and took a flat-water float trip on the Colorado River. We added a half-day flight-seeing excursion to Monument Valley, where we toured with a Navajo guide. Tauck, in our experience, does not sell a lot of optional add-ons, and this one deserved being an exception to that rule.
We had travelled with Tauck before, and we especially like the pacing. At each major stop, Tauck usually leaves time for individual exploration. For this trip we had an evening and then a half-day or more to ourselves in each of the three national parks. Even if we were on our own, we could not have spent any more time at any one place without dropping something from our 8-day itinerary. Looking back, there is no place we would have been willing to give up.
With the time available, we could make hikes of only a couple of miles at each of the national parks, and we selected easy-to-moderate trails from the park guidemaps. Venturing a half-mile or so down Bright Angel Trail, not far but deep enough so we had to look up to see the rim, puts a different perspective on the Grand Canyon. At Bryce, we had the hoodoos -- rock spires -- to ourselves on an early-morning walk to Upper Observation Point. Zion is particularly accommodating to casual visitors, with paved pathways along the Virgin River, but we also hiked the two-mile loop climbing to the Emerald Pools.
It probably is a testament to the itinerary that it is impossible to single out a highlight of the trip. Although all of the parks and areas we visited are carved out of the same geologic formation, nature and time have created incredibly varied environments out of the same basic rocks. Maybe because we were first-time visitors to what was, for us, alien terrain, each day brought a different "wow!" moment.
Part of any trip, of course, is spent sleeping and eating.
Tauck promises "best available" accommodations. We began with a night at the Fairmont Scottsdale Princess near Phoenix and finished at Caesar's Palace in Las Vegas, both top-tier properties. In between, we stayed at lodging in the national parks, where "best available" is defined by proximity rather than luxury. We had a room overlooking the Grand Canyon and slept in a private, 80-year-old cabin at Bryce. Mule deer grazed on the lawn in front of the restored Zion Lodge. Only the Bryce cabin did not meet our expectations, with a balky thermostat (fortunately, we did not need heat in early June, and the cabin had a gas fireplace if it did get chilly) and a stained carpet that should have been replaced many guests ago. A dirty carpet is neither quaint nor rustic. There were no televisions in the rooms at Bryce and Zion (we had been alerted to that in the tour brochures), but after spending a day touring and hiking, we found we could actually fall asleep without a rerun of Law & Order for a lullaby.
The park restaurants, run by the same concessionaire that operates the hotels, were consistently good -- considerably better than we had experienced in previous national park trips. Although most meals were included in the tour package, that did not mean enforced group dining. Except for the welcome and farewell dinners and a couple of lunches, there was a lot of flexibility when it came to choosing dining times and selecting dining companions. Those decisions made, our guide took care of the reservations.
Although Las Vegas was not on our "to see" list, we did decide to extend our trip for a couple of days to see why so many people make a fuss about the place. In advance, we had purchased tickets to Elton John's "Red Piano" show. We also booked a tour to Hoover Dam (worth seeing) and our accommodating driver/guide stopped at a neighborhood park where a herd of bighorn sheep were grazing.
Add another "wow!" moment to the list.