More Dogs Put down after Raid on Home in Lind
Posted:
Updated: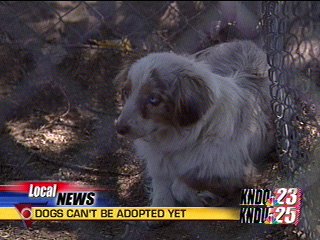 OTHELLO, Wash.- More dogs are dead, but many more improving after a record dog seizure over the weekend.
Adams County Pet Rescue says they've been forced to put down more dogs taken from an apparently abusive breeder in Lind.
About 50 of those dogs are still being taken care of at an Othello shelter, but their futures are unclear right now.
More may have to be euthanized.
The ones that live cannot be adopted right now because they're considered evidence in the case against Sharon Provost of Lind, who was arrested Saturday on charges of first degree animal cruelty.
Rescuers say provost had apparently been trying to run a breeding business out of her Lind home, but was abusing and neglecting more than 100 dogs, forcing the sheriff to get involved Saturday when one-hundred-eleven were seized and provost arrested.
"Until we get news from the sheriff's department on what's going to happen with her, whether she has to be tried or whatever. We were told that 15 days they're here, at least," said Deena Vietzke, V.P. of Adams County Pet Rescue.
Rescuers say the dogs were being held in pens as small as six-by-six feet and twelve feet deep with dead animal bones in some of those pens.
They've had to spread the dogs out to a variety of locations around the county because their shelter can't handle the volume.
The group hopes they can be adopted someday.
To help, contact the group at: adamscountypetrescue@yahoo.com.