Pasco Police Not Apart of Regional S.W.A.T. Team
Posted:
Updated: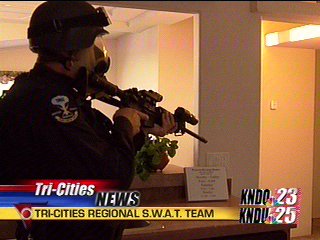 KENNEWICK, Wash-- Law enforcement agencies in Benton County have a united S.W.A.T. team that works together.

The Benton County Sheriff's Office, Richland and Kennewick Police have a joint S.W.A.T. team that handles extreme or emergency situations. Pasco has it's own S.W.A.T. team utilized by Franklin County, which has not had a S.W.A.T. team since 1994.
"The number of calls that we had didn't meet the amount of hours we were having to devote to training," said Sgt. Rick Tent, Franklin County Sheriff's Office.
The Pasco S.W.A.T. team is not part of the regional team because they are in Franklin County and there would be several logisitcal issues ranging from dispatch communication to different court systems and training schedules. Pasco Police say it is something they may look into in the future.
Two years ago Kennewick joined the regional S.W.A.T. team and faced several logistic challenges.
"We we have faced those challenges and we continue to face those challenges as time goes on like budgetary constraints, but we have made it work really well over here in Benton County," said Sgt. Scott Child, Kennewick Police Department.

The Benton County S.W.A.T. Team has talked about extending their regional group to include Pasco's Police, but because Pasco is part of Franklin County and there are collaboration issues.
"We would certainly have to overcome some communication barriers and training schedules. It merely comes down to just logistics," said Captain Ken Roske, Pasco Police Department.

Both Benton County and Pasco S.W.A.T. Teams would assist each other if an emergency called for more resources.

"You know by having one team maybe the communication would be better. We have to wait and see when that happens. I think the good thing about it right now is we have two teams that are both very functional and very good," said Child.
Pasco Police say they have trained with Benton County's S.W.A.T. Team in the past and would answer to any assistace other regional teams may need.
There has not been a situation where the Benton County S.W.A.T. Team and Pasco S.W.A.T. Team have had to assist each other so far.