Washington Wildfire Overview
Posted:
Updated: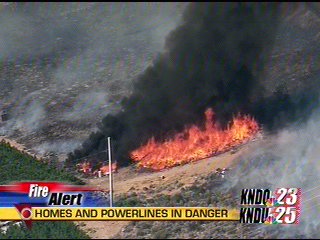 KENNEWICK, Wash.-- People all around Washington are seeing and smelling smoke. Here's a brief overview of some of those fires. All information is the latest KNDU has as of Monday at 11:00 p.m.
Cold Springs Fire
An 8,000-acre fire is burning on Mount Adams. A lightning strike started the fire just north of Trout Springs on Saturday. It's burning on national forest land and has now spread to the Yakama Reservation. Many campgrounds and hiking trails in the area are closed.
Willow Creek Fire
The Willow Creek fire just south of Soap Lake is now fully contained and local authorities have resumed command of the fire. It burned 5,000 acres of land. One empty house, four outbuildings, and two vehicles were completely destroyed.
Valley View Fire
Firefighters are just starting to get the Valley View fire in Spokane Valley under control. It's now 80% contained and has burned more than 1,000 acres. Fire officials first said 13 homes were destroyed, now they've saying only 11 were lost. Ten other buildings were also completely destroyed. The fire continues to threaten 2,300 homes. Most of those home owners are under level 2 orders, meaning they must be ready to leave at a moment's notice.
Badger Mountain Fire
The Badger Mountain fire north of East Wenatchee is now 65% contained at 15,000 acres, that's just over 23 square miles that have burned so far. The fire threatens more than 150 structures, but many evacuations are no longer mandatory. Firefighters are trying to protect power lines and communication towers that are also threatened.