New Taxes For Downtown Businesses and Property Owners
Posted:
Updated: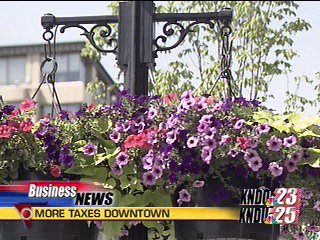 YAKIMA, Wa.- The Committee for Downtown Yakima plans to expand downtown but some businesses say it's at their own expense.
"I'm very distressed to see the city would think its okay to tax nonprofits," said Julie Adams, an administrator for Suntower Retirement Homes.
The committee told downtown businesses about the tax proposal and still 60 percent of businesses signed a petition in support of it.
Suntower Retirement says the tax was an unpleasant surprise.
"My first contact was a bill and I had no idea what it was for," said Adams
Businesses downtown will be taxed according to the value of their property. It will range from $35 to almost $10,000.
The tax money will be used to maintain the infrastructure and landscaping of downtown, adding 7 new employees.
"We have an amount of money where we can be effective, make a difference but at the same time be as fair as possible," said Sean Hawkins, the executive director for Committee for Downtown Yakima.
Non-profit organizations say that's not good enough. For Suntower Retirement, the tax was dropped from $8,000 to $2,500 but some of their residents earn as little as 100 dollars a month.
"So to give them an increase simply to pay for things we're already taking care of ourselves is ridiculous," said Adams.
Non-profit organizations like Suntower Retirement Homes and local churches say they already take care of their property and the up-keep.
The expansion plans will be further discussed tonight at the city council meeting.