Tuesday Washington Wildfire Overview
Posted:
Updated: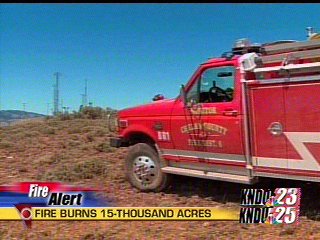 KENNEWICK, Wash.-- High fire danger and red flag warnings for most of Eastern Washington were in place Tuesday. Here's a brief overview of some fires that continue to burn. All information is the latest KNDU has as of Tuesday at 11:00 p.m.
Cold Springs Fire
An 7,100-acre fire is burning on Mount Adams. Yesterday, the Northwest Interagency Coordination Center said 8,000 acres, but that has been reduced. A lightning strike started the fire just north of Trout Springs on Saturday. It's burning on national forest land and has now spread to the Yakama Indian Reservation. Many campgrounds and hiking trails in the area are closed.
Willow Creek Fire
The Willow Creek fire just south of Soap Lake is now fully contained and local authorities have resumed command of the fire. It burned 5,000 acres of land. One empty house, four outbuildings, and two vehicles were completely destroyed.
Valley View Fire
Firefighters are just starting to get the Valley View fire in Spokane Valley under control. It's now 90% contained and has burned more than 1,000 acres. Fire officials say 11 homes, 5 shops, and 5 sheds were completely destroyed. 2,300 homes are still in danger, but those residents have been allowed back in. The fire started when a recreational fire wasn't properly extinguished and flared up in the high wind and low humidity last week. Local resident Tracy Berg was supervising the fire before it got out of control.
Badger Mountain Fire
The Badger Mountain fire north of East Wenatchee is now 75% contained at 15,000 acres, or just over 23 square miles. All evacuations for the area have been lifted. Firefighters are trying to protect power lines and communication towers that are threatened.