Gold into Gas Money: Business Going Well for Tri-City Pawn Shops
Posted:
Updated: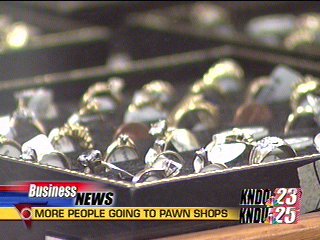 KENNEWICK, Wash.-- The weak economy and high gas prices are hurting many people and companies, but it's actually helping one business.
Pawn shops are actually seeing a rise in people buying and selling all different types of items. People have been trading in gold for gas money. According to AAA, the average gallon of regular in the Tri-Cities is $4.30. Gold is worth more than $950 an ounce.
Tony Sanders works at a pawn shop, and he's seen more people come in since the price of gas has started to go up. Sander says, "Most people's gas bills have doubled in the last year, and they're not prepared for it. So they're bringing in their gold that has value and their other items, and we're loaning them and buying them for money."
Shawn Lance, a customer at the pawn shop, says, "I'm here at the pawn shop to sell some items for gas money because I can't afford to drive."
Jacob Taylor was also in the pawn shop. His dad just sold their bow so they could pay for gas to go boating. Taylor says, "I'd rather us keep that but we haven't tried out the boat for a while."
Not only are people selling things so they can go have fun, but some are also buying used recreational things, instead of new things. "Primarily right now we're seeing a lot of selling, but we do see the trend for the things that people would normally want for recreation. They'll come here and buy used and be content with it," says Sanders. Lance is an example of that. He says, "I would go buy something used if I needed it. I would not go buy new. I can't afford it."
Not being able to afford gas or food is forcing families to decide what items they need most, and many are selling everything except the necessities. Lance says, "I am slowly losing my household items, which can be replaced eventually. You got to do what you got to do to survive."