First Public Tours of McNary Dam Since 9/11
Posted:
Updated: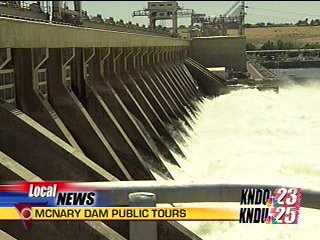 UMATILLA, Ore-- Energy prices in Washington State are much cheaper than anywhere else in the country because several local dams produce hydroelectricity.

If all you know about Hydro Dams is water crashing through a wall, you'll be surprised to learn how much they affect Washington State's economy.

"McNary Dam can be operated at close to 1200 megawatts which is enough power to supply a city the size of Seattle or Portland," said Randall Ryan, Operations Manager for McNary Dam.

Having hardly any impact on the environment, these slides allow fish to swim thru safely. While the navigation locks help agriculture barges pass through rapid free and in deep water.
"From the standpoint of the Columbia River it has a negligible impact. We don't raise the temperature of the river. There's no bi-product of pollution to speak," said Pasqual Anolfo, McNary Dam Park Ranger.

The dam is able to harness 98 percent of the potential power from the water with the use of these 14 generators. Since 9/11, security has changed because this project is recognized as being critical to Washington State's economy.
"That recognition has also been seen by potential advesaries, terrorists. They have recognized the value of it and we have to, therefore increase all security," said Ryan.

Unlike coal and fuel, mother nature provides the fuel for the hydro power plant. With only 130 employees and $21 million in budget expenses, McNary Dam produces $400 milllion worth of power. Power that lowers your monthly electric bills.