TRI-CITIES 2008: U-6 Oh Boy! Oberto/Miss Madison and Steve David looking for first 2008 finals win
Posted:
Updated: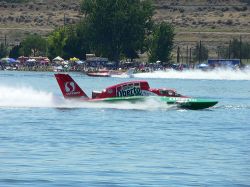 KENNEWICK, Wash. - The U-6 Oh Boy! Oberto / Miss Madison, driven by Steve David, is looking to be the fleet's fastest qualifying speed for the fourth straight race in the 2008 season and take the Columbia Cup trophy this weekend.
To do so, they'll have to hold off defending champion and U-1 Miss Elam and driver Dave Villwock, who is joining the West Coast swing.
"We have long held the Elam program in the highest esteem," said David. "They are the benchmark of a top flight program. We've run second to them, and we've won against them. We look forward to that match up again at Tri-Cities and Seattle. When you've beaten the Elam program, you've beat the best."
Coming into this weekend, the U-6 Oh Boy! Oberto / Miss Madison leads this weekend's 13 boat fleet in American Boat Racing Association's (ABRA) National High Points. The U-6 has 3269 which is 30 points ahead of U-5 Formula Boats driven by Jeff Bernard..
On Qualifying...
"Our team, like so many others, have been in awe of the Miss Budweiser and the other past top qualifiers," David said. "In our 48-year team history, we'd never been the fastest qualifier. Coming to the Columbia Cup we have been top qualifier three races in a row. The goal is to convert the quickest to the winningest."
David and the U-6 won the final two races of 2007 at Seattle and San Diego and fans had high hopes for this season. Despite being on top of the leader board for points, the team finished second at both Evansville and Madison. Detroit was declared a "no contest" due to dangerous wind conditions.
The U-6 finished 2nd in last year's Columbia Cup to Villwock and the U-1 Elam.
On Leading in National High Points...

The community of Madison Ind. and the Oberto organization have won several first place trophy's and two Drivers Championships," David said. "We have never won the National High Points Championship allowing us to have the U-1 as our number and wear the U-1 shield. We've got the thinnest of leads over the U-5 and the U-37 and have to fight for every point we earn. Doing well at the Columbia Cup could move us from the nervous lead we have to the significant lead we're shooting for."