Things you may not know about the U-6 Oh Boy! Oberto/Miss Madison
Posted:
Updated: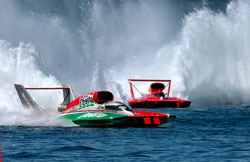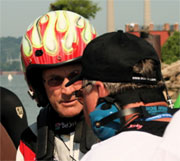 Steve David and Mike Hanson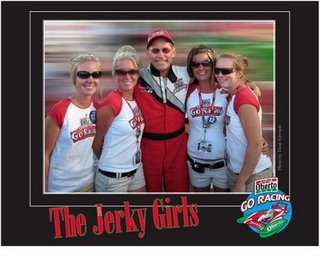 The Jerky Girls
DOUBLE TEAMED
Mike "The Boat Doctor" Hanson (Auburn, Wash.) is the only crew chief with Unlimited Hydroplane driving experiences .
Mike Hanson's 16-year Unlimited Hydroplane driving career combined with 10-years as a crew chief gives current driver, Steve David, a competitive advantage above other teams. Mike Hanson is in constant radio communication with Steve David when the boat is racing. He is the perfect communicator with Steve David when a race is in progress.
With Mike Hanson's driving experience he is able to take Steve David's descriptions of the boat's handling and translate info into quick boat set-up changes without in-depth debriefing . They speak the same language --"Dro Driver Language" (short for Hydro).
Mike Hanson is in his fifth season as the U-6 Oh Boy! Oberto crew chief, the former Unlimited Hydroplane driver has four driving victories to his name. Mike Hanson drove U-1 Miss Budweiser, U-6 Kellogs Corn Flakes, U-6 Dewalt, U-9 Tubby's Grilled Subs and U-69 Sutphen Spirit.
THE RIGHT STUFF
Crew member, Jimmy Gilbert (Houston, TX) is a retired NASA scientist .
During his 36-year career at NASA he worked on every Apollo (1-17) mission's command modules, and lunar guidance computers. He also worked on the Space Shuttles.
In the early 70s Jimmy Gilbert worked on digital image processing computers with NASA - much of the technology he developed is used in today's digital cameras. This is Jimmy's fourth year with the Oh Boy! Oberto hydroplane team. His role with the team is to provide crew chief Mike Hanson raw data from the boat's computer systems that show exactly how the boat, engine and gearboxes perform when the boat is racing on the water.
GIRL POWER
Cindy Shirley (Lexington, KY), crew member of the U-6 Oh Boy! Oberto is one of two female crew members in pit row this weekend in a male dominated sport.
Cindy is charged with everything in the cockpit, including the maintenance of driver Steve David's air bottles for breathing to the electronics on the boat. She has been an Oh Boy! Oberto crew member for eight seasons.
The team is no stranger to women crew members. In the late 70s to early 80s Carol Lee from Seattle wrenched on the boat.
FAMILY VALUES.
Team manager, Charlie Grooms from Indiana, travels the west coast circuit with his three daughters and his wife Nancy. While Charlie works in pit row, daughters Kati, Cody, and Courtney blanket both sides of the river passing out Oh Boy! Oberto Beef Jerky sample packages as "The Jerky Girls."
The Jerky Girls will distribute 10,000 sample packages of beef jerky over the three day event. "It's a great way to spend our family's summer vacation," Courtney Grooms said. So popular with race fans, the girls even have their own autograph cards for their fans.
OLDEST TEAM IN HYDROS
The city of Madison, Ind. became an owner of a hydroplane in 1961 when industrialist, Samuel DuPont donated his hydroplane named "Nitrogen" to the city of Madison. When that boat was destroyed in a racing accident a year later, DuPont sold his second boat to the city for $5,000. Madison, Ind. has been in the hydroplane racing business ever since. The world's only community owned hydroplane is administered by a board of directors appointed by the city's mayor.
Madison Race Team is the oldest name in the sport, having competed in 48 consecutive seasons, more than Bernie Little's Miss Budweiser. The current boat, which has two victories (2007), was built in 2007 and is the 7th Madison Race Team hydroplane.
The motion picture 'Madison' was based based around the true story of the under-dog hometown racing boat and team that tried to win the "big one" against long odds in front of their home crowd...Actors Jake Lloyd and Jim Caviezel star in the 2005 movie now out on DVD.

MADISON RACE TEAM VICTORIES
(1) 1965 - Guntersville, Ala. (Dixie Cup); driver-Buddy Byers
(2) 1971 - Madison, Ind. (APBA Gold Cup); driver-Jim McCormick
(3) 1971 - Tri-Cities, Wash. (Atomic Cup); driver-Jim McCormick
(4) 1983 - Lake Ozark, MO (Missouri Governor's Cup); driver-Ron Snyder
(5) 1993 - San Diego, Calf. (Texaco Star Mart Cup); driver-Mike Hanson (current crew chief)
(6) 2001 - Madison, Ind. (Indiana Governor's Cup); driver-Steve David
(7) 2005 - Evansville, Ind. (Thunder On The Ohio); driver-Steve David
(8) 2007 - Seattle, Wash. (Chevrolet Cup at Seafair); driver-Steve David
(9) 2007 - San Diego, Calf. (Bill Muncey Cup); driver-Steve David

OH BOY! OBERTO & MADISON RACE TEAM
The Oberto family sponsored hydroplanes from 1975-1992. The honor roll of drivers includes Chuck Hickling, Bill Wurster, Tom Martin, Bob Maschmedt, Steve LaCava, Scott Pierce, John Prevost, Jerry Hopp, George Johnson, George Woods Jr., Mark Tate, Mitch Evans, Todd Yarling, Mike Eacrett.
In 2000, Oberto a family owned company joined with forces with the town of Madison, Ind. to sponsor the town's (Miss) Madison Race Team. The midwest town's down-home values is a perfect fit for the Oberto Sausage Co. who this year celebrate their 90th year in business.
Since 2000, drivers have included...Nate Brown, George Stratton and current driver, Steve David (2001).
TEAM FACTS
Founded: 1961
Owner: City of Madison, Ind. Driver:
Steve David (Lighthouse, FL)
Team Number: U-6
Homeport: Madison, Ind.
Year Built: 2007
Length: 31' 9"
Width: 14' 6"
Weight: 6200 lbs
Engine: T-55/L-7 Turbine
Fuel: 60 gallons / Jet A or home heating oil
Propeller: 3 Bladed, 26" Pitch, 16" Diameter
Sponsor: Oberto Sausage Co.
Website: www.missmadison.com