Kennewick Family Rents Closed-Toe Shoes At Hydros
Posted:
Updated: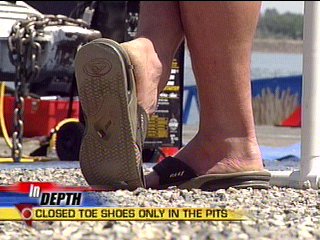 KENNEWICK, Wash.-- "No open-toed shoes in the pits," that's the rule at the Water Follies Races. Every year, hundreds of people wear sandals because it's hot. Then they want to go in the pits, but can't.
One Kennewick family decided to start renting closed-toe shoes to people who want to go in the pits. The Walden family is already a family of entrepreneurs. They own Atomic Screen Printing in Kennewick. Every year they've tried to find ways to help people wearing sandals go in the hot pits. Laci Walden says, "[Last year] we were duct taping people's feet. We were loaning out our shoes, so we just decided, why not? Why not rent shoes?"
This year, they bought about 25 pairs of closed toe shoes that they're renting out. These 25 pairs will hopefully help people have fun and be safe. Safety is a very important issue. J.Z. Hansen, who is attending the Lamb Weston Columbia Cup this year, says, "A lot of equipment is going around. If you fall or step down on a piece of equipment or a loose nail or bolt, it would probably hurt a bit more without a shoe." Walden says, "It's just a hazard with all the parts and the engines and the fires and other things going on."
It costs $5 to rent the shoes, and there's a $15 deposit, but you get that back when you return them. The Walden family isn't out to make money, just to help people have fun. Laci Walden says, "We just want to help people and let them enjoy the races, and see in the pits, and see what it's actually like working in the pits because it's really fun down there."