Kennewick Man is Shot Twice and Airlifted to Harborview
Posted:
Updated: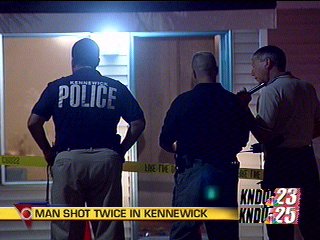 Kennewick, Wash-- One man is in the hospital after getting shot twice last night. Gun shots sent a Kennewick neighborhood scattering.
KNDU was at the scene and spoke to a witness who saw the shooting happen.
Kennewick Police say they are looking at one person of interest. The witness we spoke to didn't know very many details about what the shooter looked like.
Police responded to an apartment complex near Olympia St. and West 5th Ave. The victim had two bullet wounds and was falling in and out of consciousness.
The victim was airlifted to Harborview Medical Center. Police say he doesn't have life threatening injuries, but does have substantial injuries. A witness says he was shot in the leg.
"And I heard pop-pop-pop and I looked over and I see four guys running in a Bronco. One bald guy a minute later jumped in the Bronco also and they just took off," said Terrie Evans, who witnessed the shooting.

Evans says this is not something that usually happens in this neighborhood.
"It did shock me to have somebody get shot right like across the street," said Evans.

Earlier today police were looking for two persons of interest.
"They're persons of interest at this time. We have information and reason to believe that they were there, we don't know if one or the other was the shooting suspect," said Sgt. Randy Maynard, Kennewick Police Department.
Police have now questioned one of the suspects and determined he was not part of the shooting. They are still looking for 18 year-old Khiry Y. Jackson of Pasco.

"We don't know if this was something gang related, if it was drug related, and if it was something else that caused this," said Sgt. Maynard.
A Kennewick Police Sergeant told KNDU Seattle Police may be questioning the victim soon, but he does not have a recent update on the victims injuries.